EF-111A Raven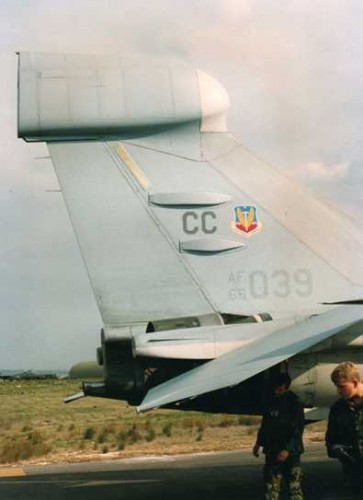 Point to note the huge pod atop the fin containing some of the Ravens electronic warfare equipment. Strangely this aircraft had a mixture of high and low visibility markings, mostly low visibility but unit and command badges in full colour. Two static wicks on the rudder trailing edge and 3 more on elevator trailing edge. A Lakenheath based F15E can be seen in the background. Two large rudder actuator fairings on the fin framing the `CC' code and the Air Combat Command badge. The bottom of the rudder and the fairing between the engines are pretty grubby from the jet efflux. American engines tend to use fuel as a lubricant for the rear bearing instead of oil and this un-burnt fuel gives the traditional smoky trail across the sky and a grubby airframe!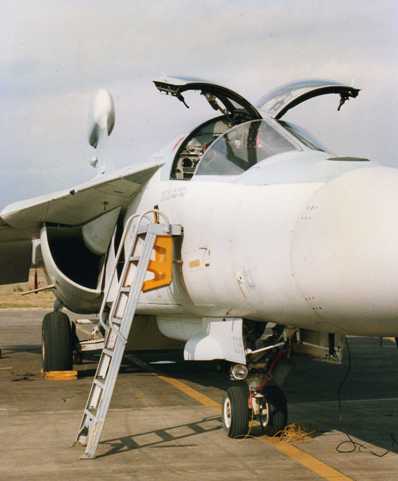 Starboard nose details. Points to note – the circular aerial in front of the cockpit (possibly GPS but not certain), the retraction arms for the nose-wheel doors and the two landing /taxy lamps. The bulged fairing at the rear of the doors mates with the front of the `canoe' when closed. The canoe contains more of the EW kit, aerials for which can be seen above and below the wing and on the intake side. Low visibility markings but a full colour wing badge and ejection warning triangle by the canopy. Canopy rams and locks prominent inside the canopies. The tangle of yellow wire is to 'earth' the aircraft.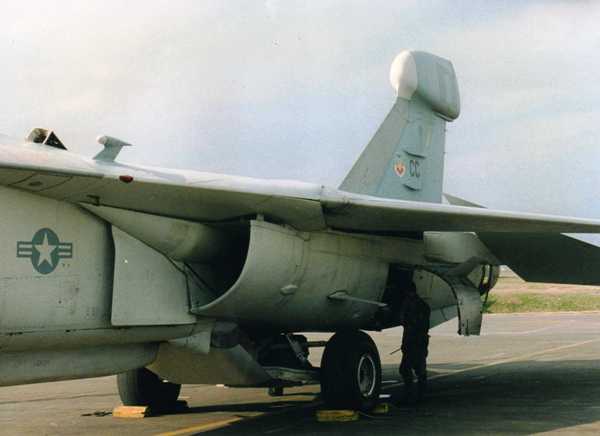 Points to note – the complex intake construction plus the undercarriage details, I still don't see how all that goes in there! Above the wing, one of the EW aerials and to its left, what I believe is the open in-flight refuelling aperture. Port navigation light well inboard and a rather grubby wing sweep pivot point. The aerial on the open servicing panel is only fitted on the port side.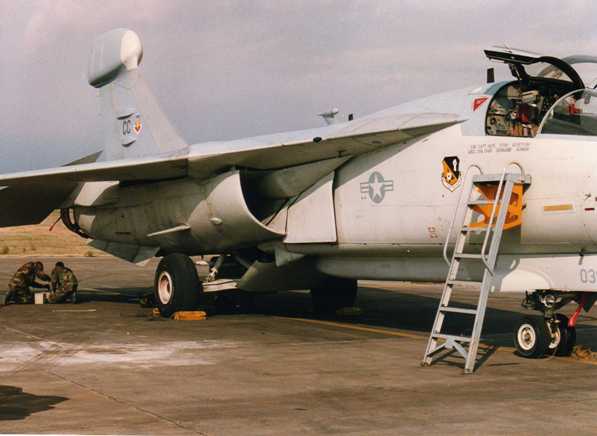 Starboard centre fuselage – more intake and undercarriage detail and the rear fuselage strakes. Black and yellow 27th Fighter Wing badge and two more aerials on the spine. The small projection on the lower canopy frame is the external catch.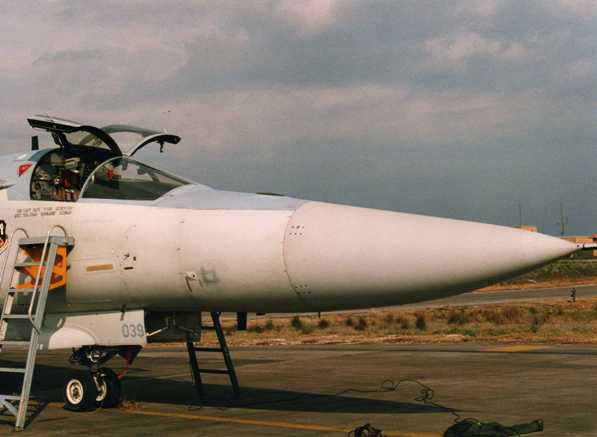 Starboard nose showing camouflage demarcation and very slight colour change on the radome. Prominent canopy latches, internal and external.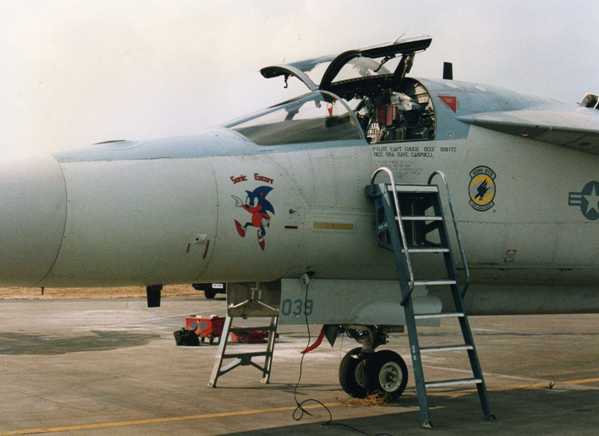 Port forward fuselage – Sonic Escort nose art and 429th ECS badge. Note the different colours of the two access ladders. Aircraft flown by Captain Chuck `Beef' Kowitz and EWO Captain Dave `Vish' Genevish.