Wing-mounted MGs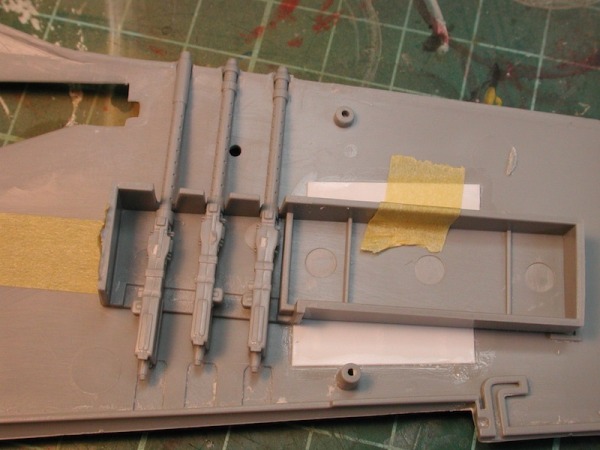 Next up was the wing-mounted machine guns. Dragon provides detailed guns and ammo bays, should you wish to open the wing panels. I'm not doing that on this model and I wanted a solution for the guns that allowed me to add them at the end of the build (after painting etc) and also position them at the right depth in the wing (so as to correct errors with the kit ones).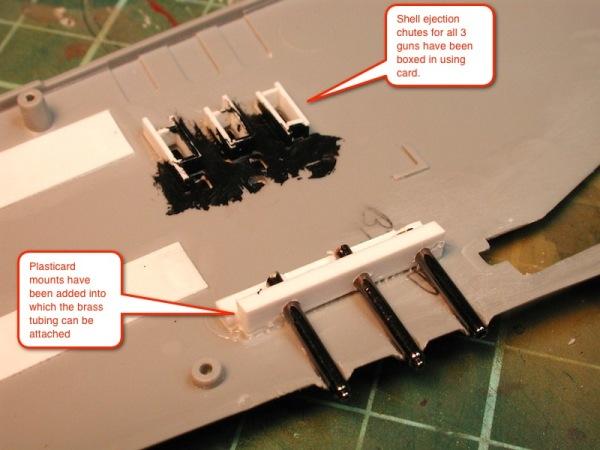 The last time I was in Singapore I stocked up on some nice brass tubing (1.0 and 1.5mm) which will now come in handy. Here we see the "guns" being fashioned from that brass tube. To support the tube in the right place (and angle) I glued some plasticard supports inside the wing and when dry, drilled holes through the front. Dragon provides holes on the wing underside for the gun shell ejection chutes, but they lacked depth so I boxed them in using some 20 x 60″ card.


A good view of what the end result will look like for the guns; the guns on the Mustang are offset in the wing (to allow the ammunition feed belts to overlap each other) and as such they do not all protrude from the wing the same amount. This photo shows that the inboard most gun (left) does not extend at all outside the wing, and what we see is only the blast tube. (don't forget that great walkaround on the P-51D Mustang in your SMN Photo Reference Library)
Rudder correction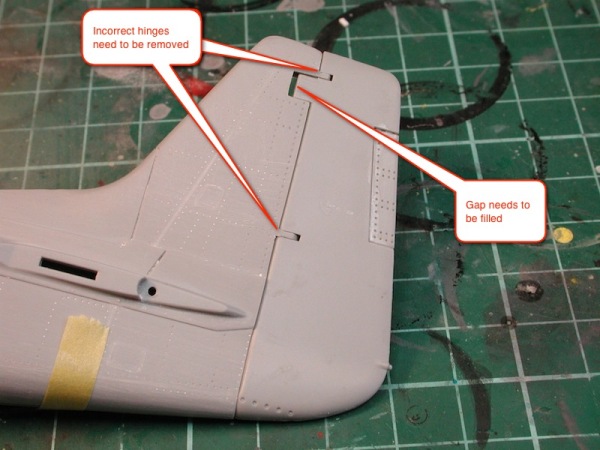 Another item needing obvious correction is the rudder; on the real Mustangs, it was the only component that was still wood and cloth. Dragon has made quite a balls up of the rudder in this kit. Not only have Dragon made no real attempt to simulate the ribbing (which is quite distinctive on the real aircraft) but they have added fictitious hinges which must be removed.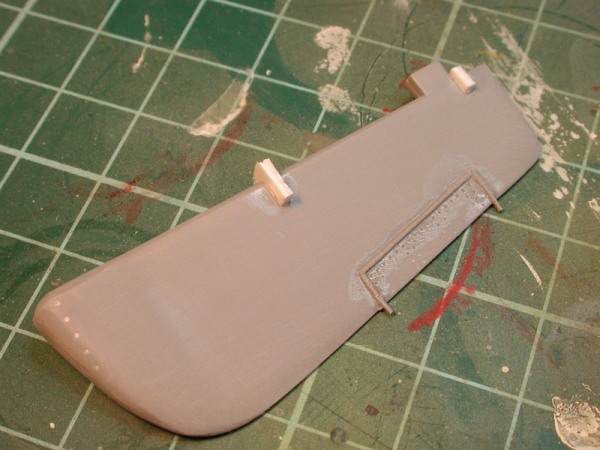 First step is to fill the hinges and like every other control surface on this model, the trim tab fit is very poor. Here we see I have used the stretched sprue technique to once again fill over-scale gaps. I'm yet to decide on the best method to reproduce the ribbing effect. Got some ideas I wanna test out first.