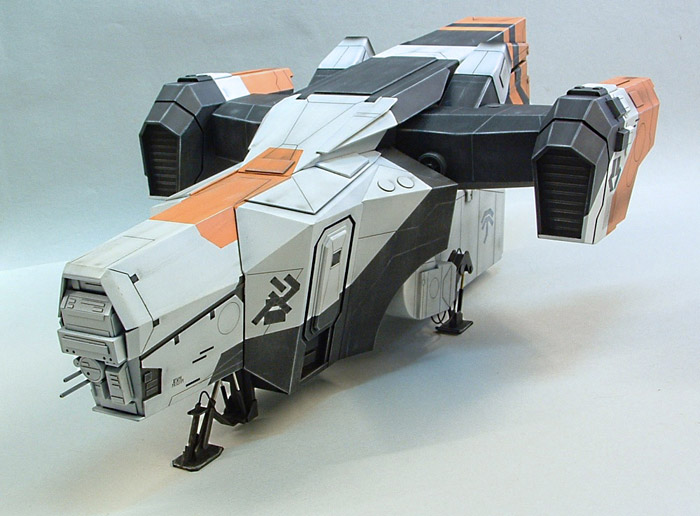 Scratch-build project with Roger Brown
---
A note from Geoff C…
Now this is something unique and special from Roger B – a scratch-built Drop Ship from the popular film 'District 9' and what a great result he's achieved as you can see. Excellent work Roger, so let's see how you achieved your great result…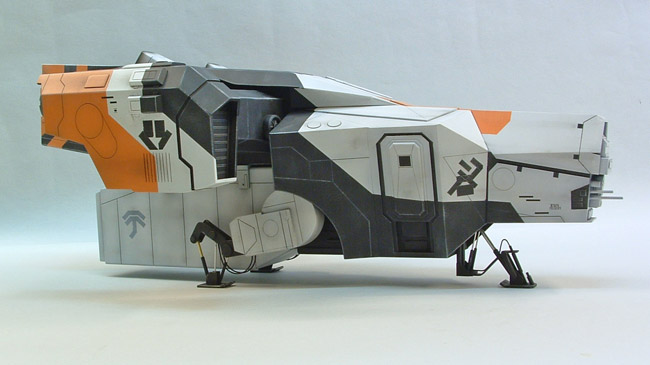 Over to you Roger…
---
I do enjoy making a model space ship!
There are many films and TV series featuring great ship designs and sometimes I have a real problem choosing which ones to build.
Star Wars kits are always a favourite with me, 'X' Wings, Star Fighters, Star Destroyers and Tie Fighters etc. and they can all have extra detail added.
Alien, Dune, Babylon5, Interstellar and of course Star Trek all feature some excellent designs.
If a kit is available I will go for that but unfortunately some of the ships I like are not available in kit form, so it has to be a scratch build. And this may take me anything from three months to the best part of a year, with of course other kits being built as well.
The one benefit to scratch-building is you can have a unique model which no one else has!
I try to make the model as accurate as I can with the information available and then do my best with the rest.
So when the film District 9 came out in 2009, not only was it such a good film, I instantly took a liking to the Alien Drop Ship and I decided that this would be my next scratch-build.
A search on the internet came up with a link to the magazine 3D World, which featured details and images of the 3D Drop Ship as featured in the film.
Design
I scaled the images down until I had a drawing which was about 1:48 scale and therefore manageable. This gave me a model 400mm long 260mm wide and 150mm tall.
To begin the constructional drawings I broke the model down into the following component parts:
• Front fuselage
• Rear fuselage halves
• Left and right engine mounting pods
• Left and right engines
• Left and right thrusters
• Cargo pod
• Landing gear
Unusually on this ship there is no visible cockpit screen or canopy, but this is an alien vessel.
Each component part was then drawn up, with internal construction details.