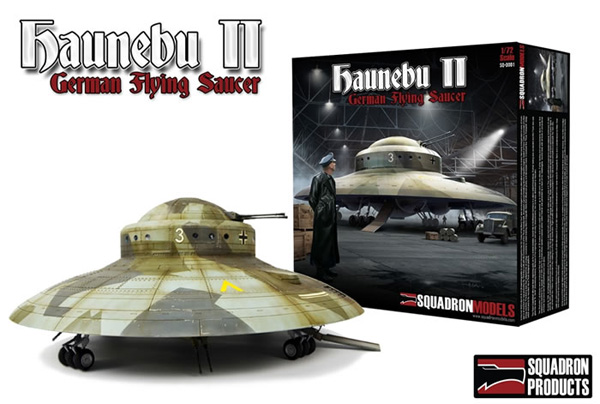 Full review by Roger Brown
This is a brand new kit from Squadron Models and what a choice they have made!This model is sure to please sci-fi and Luftwaffe '46 fans, (me) so cannot be bad.
History (extracted from the instructions)
In 1942, the enlarged Haunebu II of 26 meters diameter was ready for flight testing. The craft was powered by an electro-magnetic engine. This engine used an energy converter to create rotating electro-magnetic fields that influenced gravity and decreased mass.
This saucer had a crew of nine and could also achieve supersonic flight of between 6,000-21,000 km/h with a flight endurance of 55 hours.
Both it and the further developed 32 meter diameter Do-Stra had Victalen heat shielding applied to the two hulls.
It was armed with 2 x 110mm cannon in a main rotating turret and 8 x 80mm cannon in four ball turrets.
Seven of these craft were constructed and tested between 1943-44 by Dornier. The craft made 106 test flights.
And if you don't believe any of this you can check it all out on Google.
The Squadron Models Kit
The kit comprises of 125 parts, and comes in a very big box which will be useful to transport the model to shows.
The box artwork is splendid and I identified the type face as 'Germania' (hardly surprising) which I will use to print out a descriptive label for displaying the model at shows.
The finished craft comes out at about 355mm diameter.
The kit is supplied with Cartograf decals.
Quality
The moulding is first class and the fit is very good considering the size of some of the components. This is partly due to the pin and socket location for most of the parts which ensures a sound joint and no error in positioning.
The circular control cabin wall is orientated by the use of tabs and slots onto the cabin deck which is in turn located to the upper saucer by pins and sockets.
The ten page instruction manual is quite unique with the front cover title 'Streng Geheim' which translated means 'Strict Secret' or more normally 'Top Secret'.
The assembly instructions are shown as photographs of parts and assemblies and there are only 18 steps to a completed model.
The painting guide takes the form of a three colour splinter scheme and is shown in a side, top and bottom view.
The kit includes a detailed control cabin with internal wall detailing, three control consoles with seats for nine crew members and the Anti-Gravity generator unit.
The control cabin could be detailed further with conduits and cabling as desired.
There are four sets of triple wheeled landing gear with doors, a boarding ramp, four lower ball type twin 80mm gun turrets and twin 110mm cannons mounted in an upper gun turret positioned on top of the control cabin.