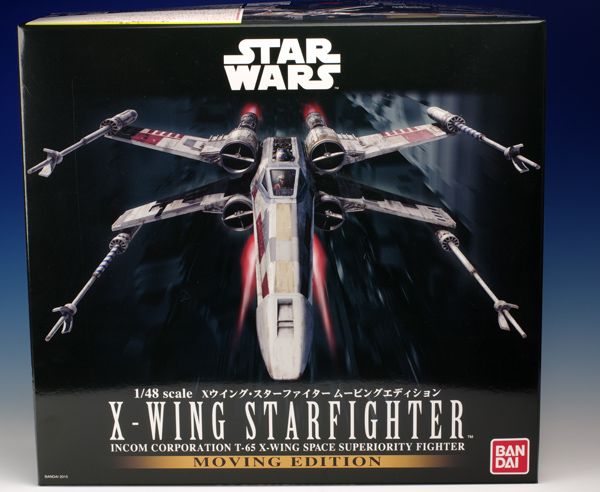 Review by Dave Coward
A note from Geoff…
I just couldn't resist including a quick look at Dave's completed build here, right up front. Dave will take you through each step of the build to help you along if you have this kit and are building it now or plan to do so in the future – there are some great tips to make that process whole lot clearer and more straightforward.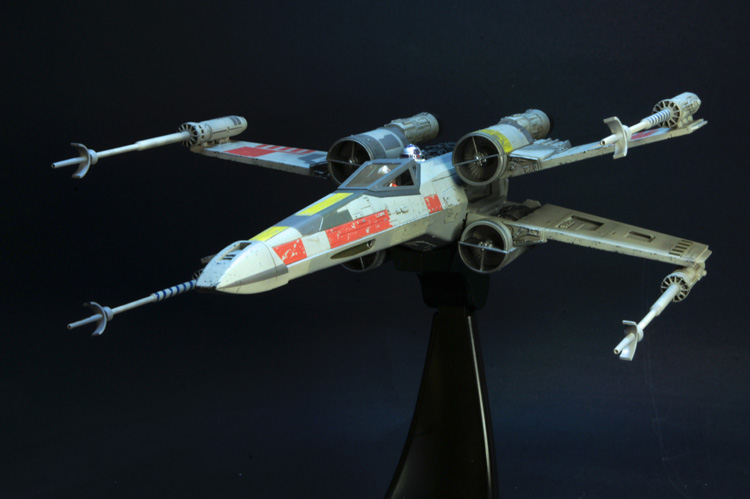 Background
The Incom T-65 X-Wing is the fighter that killed the Death Star. An almost perfect balance of speed, manoeuvrability, and defensive shielding make it the fighter of choice for Rogue Squadron.
General Carlist Rieekan
The Incom T-65 X-Wing Starfighter was the primary all-purpose Starfighter of the Rebel Alliance and its successor governments. Known for its versatility and exceptional combat performance, it was a favourite with Rebel and New Republic pilots. Possessing deflector shields, a hyperdrive, an R2 Astromech for repairs and navigation, and a complement of proton torpedoes, the X-Wing allowed the Rebellion to launch raids in Imperial space with improved odds of a successful mission.
The X-Wing played a major role in the Galactic Civil War following its capture on Fresia and the defection of its designers to the Alliance. It was most heralded as the fighter that destroyed the Death Star at the hands of Luke Skywalker. Later in the war, it would form the backbone of the Alliance Starfighter Corps, defending Alliance ships and leading attacks on Imperial vessels and installations. Most importantly, it could perform on near equal terms with the Empire's high-performance TIE fighters when handled by an experienced pilot.
Pilots of Rogue Squadron favoured using the multi-role X-Wing fighter, flying it as often as they could on most missions; they only employed other craft for highly specialised missions, such as missions that required ion cannons. The X-Wing was so predominantly flown by Rebel and New Republic forces that it became a symbol of their faction, much like the TIE fighter and Star Destroyer were symbols of the Galactic Empire.
Thanks to continued upgrades to the basic design and improved tactics, the X-Wing series remained one of the galaxy's predominant multi-role Starfighters for over 40 years.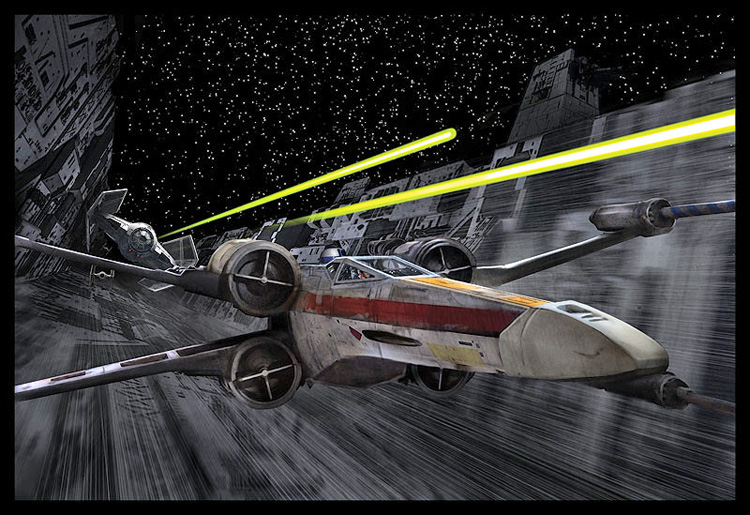 Being a child of the 70's seeing the original Star Wars Movie is a very vivid memory for me especially the finale with Luke's X-Wing Fighter flying down the 'Canyons' of the Death Star. I've always had a soft spot for the X-Wing since this time and so when I spied this kit at the Editor's office (Geoff), I couldn't help myself and asked to have a shot at it – it's well outside my normal sphere but I'm always up for something a bit different so here goes with my first Sc-Fi model.