CHECK OUT THIS PROMO VIDEO from Wild House Models….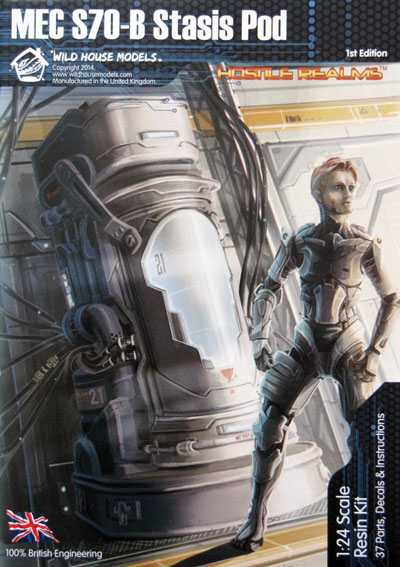 Special Feature Article by Dave Smith
Intro from Geoff…
You may well have seen Dave's Here Now review? If not, check out what is offered in this excellent Wild House Models package.
More information on White House Models can be found on their SMN page
And… as Dave has now finished his build, here are a couple of images to show you how it's turned out – impressive indeed!
Over to you Dave…
Background information
The MEC S-70 is typically used for participants in deep space travel, and is equipped with advanced medical monitoring equipment to preserve the lives of critically injured or terminally ill patients, until their conditions could be stabilised in a fully equipped medical facility.
References…
The kit instructions and manufacturer's website are sufficient.
Introduction…
The first model produced by Wild House Models of Sci-fi subjects, in a 'world' of their own creation.
Construction: Resin build, with a separately available electronic module for lighting.
As previewed in the Here Now review, here we have the Stasis Pod, something completely different for the sci-fi lovers. The difference here is that instead of a full blown space ship of sorts, we have a piece of equipment which would fit into a spaceship, to maintain the crew's health.
A slightly different look on the subject, and if Wild house Models allowed this way of thinking to run, by populating an, as yet, un-announced model spaceship, could result in a ship something the size of a small housing estate!