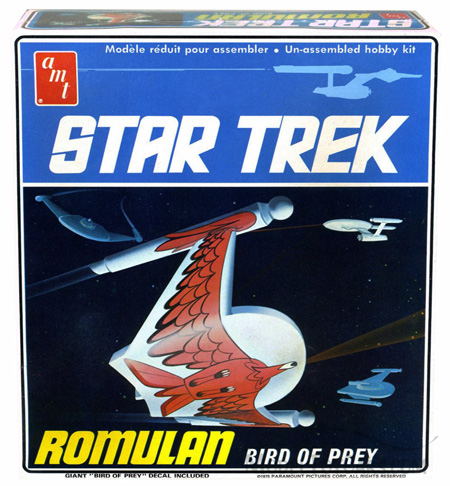 Feature Article with Roger Brown
2016 was the 50th anniversary of the start of the original TV series of Star Trek in 1966! To celebrate I decided to build something Star Trek.
The USS Enterprise, Klingon Bird of Prey, Klingon Battle Cruiser and Romulan Bird of Prey were all featured in this series, together with many other iconic pieces of hardware.
The USS Enterprise NC1701 would appear to be the most popular model to build, and there are many available in various scales thanks to people like Revell, AMT, Polar lights etc.
I finally chose to build the Romulan Bird of Prey, as Round2 models had re-released the original 1:650 AMT kit with a few additions, and I am very fond of this craft.
Round2 have included the plasma weapon and clear domes to correct the front ends of the warp nacelles.
However, much more can be done to improve this kit to make it more like the model used in the TV series. There are plenty of websites with drawings and details of minor and major modifications and also various lighting schemes.
I enjoy modifying and adding detail to basic kits, however I was not going down the road of an all-out correction and total lighting as I considered that some of the more complex modifications were not really worth the trouble. I would also add some additional details of my own to break up the plain surfaces.