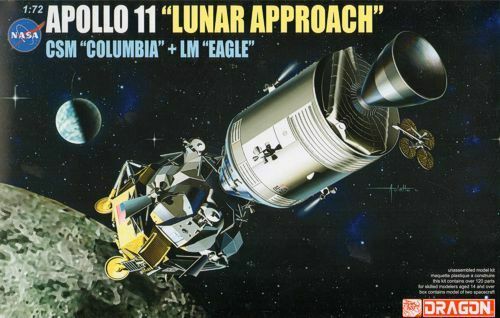 Manufacturer: Dragon
Full Review with Dave Coward
A note from Geoff C…
How topical and impressive is this… Great job Dave!


Over to you Dave…
Background
Sometimes I just fancy something a little different and having visited the Kennedy Space Centre in Florida early on in the year and seeing all displays for the 50th anniversary of the first landing on the moon I couldn't resist this model when I saw it at Scale Scotland.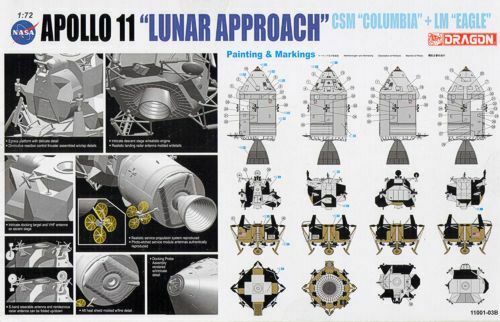 From Dragon's website…
Dragon is proud to launch a completely new line of 1:72 scale model spacecraft. The first fantastic kit set in this new collection is of Apollo 11, the first craft to put man on the Moon. Watched by millions of TV viewers, the historic Moon landing occurred on 20 July 1969 when the Apollo 11 mission touched down on lunar soil of the southern Sea of Tranquillity. The Lunar Module (LM), christened Eagle, spent 21.5 hours on the Moon's surface, while the Command Module (CM) named Columbia orbited above. The US flag was planted on the Moon, indicating to all who the winner of the Cold War space race was. The first astronaut to set foot on the Moon was Neil Armstrong, followed by Buzz Aldrin whilst Michael Collins remained with the CM. The module returned to Earth on 24 July, splashing down in the Pacific Ocean with 21.5kg of lunar rocks and samples safely aboard.
As for Dragon's 1:72 scale model, it features the Eagle LM still coupled to the Columbia CM on its approach to the Moon. The spacecraft modules are all newly tooled and they possess accurate details. Having the two modules connected like this makes for an impressive sight when they're exhibited on the integral display stand. The kit also makes for an interesting education lesson, allowing modellers to understand more about this milestone event. The Apollo 11 mission was indeed "one small step for man, one giant leap for mankind." And now Dragon has added one more significant step for modellers too!
Model Features:
Display stand included
Delicate command/service module and lunar module with astonishing detail
Authentic ascent stage
Intricate docking target and VHF antenna on ascent stage
S-band steerable antenna and rendezvous radar antenna can be folded up/down
Realistic landing radar antenna moulded w/details
Intricate descent stage w/realistic engine
Egress platform with delicate detail
Diminutive reaction control thruster assembled w/crisp details
Docking Probe Assembly rendered w/intricate detail
Realistic service propulsion system reproduced
Photo-etched service module antennas authentically reproduced
Aft hear shield moulded w/fine detail.
References used:
Haynes Apollo 11 Owners Workshop Manual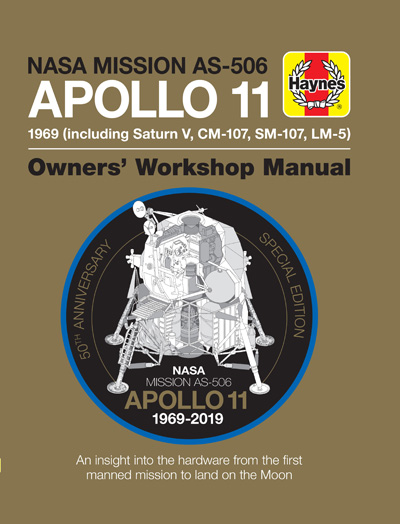 Aftermarket Extras:
NIL