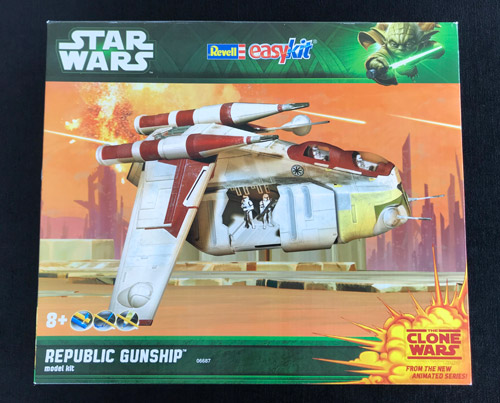 Kit Ref: 06687
with Geoff Coughlin (April 2018)
12 VIDEO DEMOS


Our thanks to Revell for supplying our review sample. Revell model kits are available from all good toy and model stores. For details visit www.revell.de/en
This project
This whole project took about 2 days to complete (around 10-12 hours contact time) and so is a great one if you want a quick build using pretty much what's in the box, plus adding whatever creative 'extras' you like.
I thoroughly enjoyed this build, such fun and I hope you not only enjoy it too but feel the urge to have a go yourself and as they say, a change is as good as a rest!
So, this Republic Gunship is the first of a series of builds we will be featuring over the coming months that will range across the SFF areas with some Warhammer 40,000 projects already underway and I am keen to extend this into other miniatures too – we'd love to see what you are doing in this area and so please do drop me an e-mail (geoff@scalemodellingnow.com) with some photos and also post stuff on our SMN Facebook page too, a great place to share what we're all doing :)
I wanted to show you a couple of pics right up front showing how it all turned out and I think the setting looks quite dramatic against that solar background.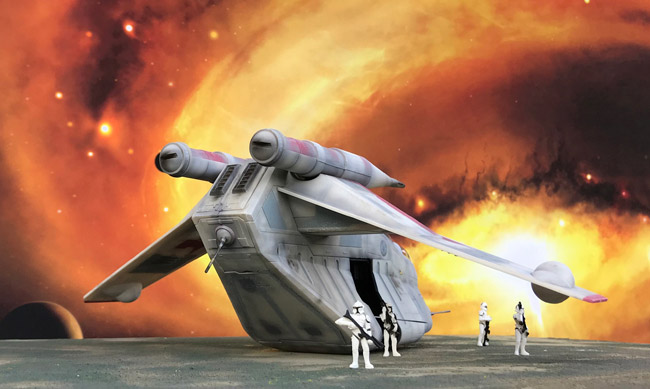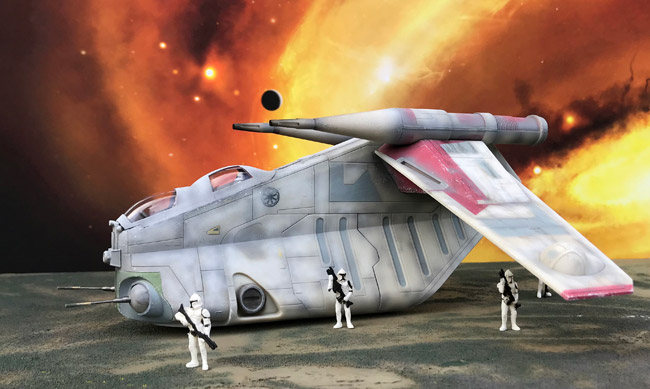 On with the build then…
Background
This tactical but extremely versatile transporter makes the safe, rapid and also near-to-ground transport of clone troops possible. Attackers in pursuit are lured into extremely impassable or rugged terrain, are forced to stay in high air space or to reduce their speed, giving the Gunship a crucial advantage in combat. Within a relatively short space of time, several transporters making repeated sorties can deliver some 2,000 clone soldiers to the battle zone.
However, the versatile, heavily armed gunship is itself a powerful weapon. Lighter and faster than the mobile artillery, the gunship carries an impressive arsenal of weapons for the massive missile launching device above the fuselage, which is used to target far distant objects, both moving and stationary, in order to protect the ground troops. The rotating laser cannons at the nose and tail serve to attack enemy infantry.
A note from Geoff…
Here are the basic stats for this release:
Length: 242mm
Figures: 6
Parts: 49