By Neil Wooding of Redflare Model Studio
Our tribute to 'Tales From The Loop' TV Show.

Background
'Tales from the Loop' is a fantastic book by Simon Stålenhag made into a series on Netflix – and also now a board game. The book takes readers on a fantastic sci-fi journey through various country and city landscapes – from small towns in Sweden and the deserts of Nevada to the bitter chill of Siberia. This is where children explore and engage with abandoned robots, vehicles, and machinery large and small, while dinosaurs and other creatures wander our roads and fields.
Stålenhag's paintings and stories take place in an alternate version of Sweden in the '80s and '90s, primarily in the countryside of Mälaröarna, a string of islands just west of Stockholm, and how this reality came about: the development of the Loop, a large particle accelerator and the side effects of the massive project.
I wanted to create a model based on his work, and found the perfect start – an old washing machine cleaning ball!
The ball had two halves, but one side rotated, and there were some interesting detail on the plastic, so this was my starting position. I wanted to scratchbuild this model and had two 1:24 scale figures that were perfect for it – a scientist and an scifi engineer.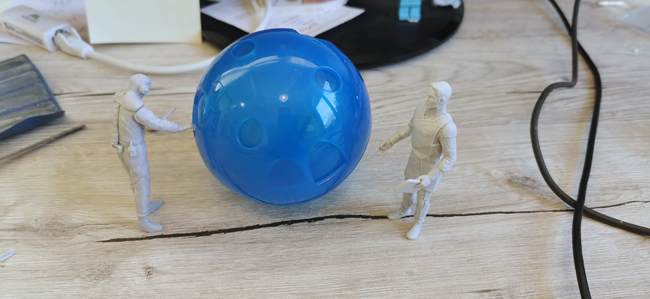 So I got out my box of styrene sheeting and greeblies and set to work!