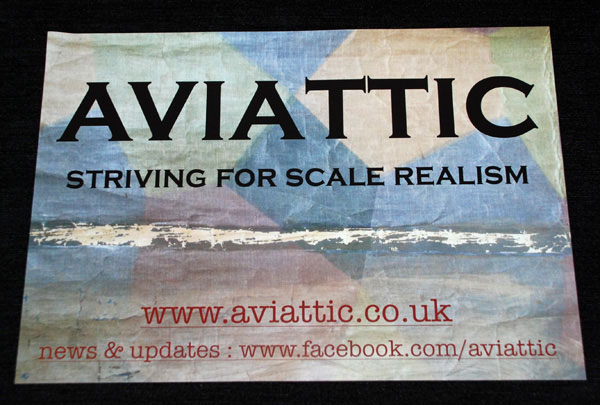 All scales
Price around £10.00 GBP per sheet (see the Aviattic website for full information)
Review by Geoff Coughlin (December 2013)
Our thanks to Richard at Aviattic for sending through these excellent quality decals – see the full range of products and get them here now at www.aviattic.co.uk
Intro.
When I first met Richard a few years ago at the excellent RAF Museum Model Show run by the guys at IPMS Barnet I was stunned by the sheer effort and research that Richard Andrews and Harry Green had put into producing their first decal sheets. These have developed into stunning and ever more comprehensive range of decals aimed at WWI scale modellers.

These sheets
You can clearly see that what we have here are comprehensive lozenge pattern sheets that actually have a texture to them – incredible. This reflects the linen used on the real aircraft very well and when you combine that with the different shades for interior and exterior application you know that you have a quality product in your hands.
The colours supplied represent the 'off the production line' look of the original aircraft and can be weathered, filtered and washed to emulate the various stages of wear and tear that these WWI aircraft suffered in their short service lives. Colours did not fade quickly but the poor quality varnish and dope protective coverings failed to keep these machines looking fresh for long.
The decals are translucent, allowing for pre-shading and staining effects to be applied to a glossed surface before application. You can choose your underlying gloss colour, from white/off-white/cream/pale grey and each will determine the overall tone of the decals so it's always worth preparing a small test area to see how they will look.
Instructions and tips
You get good instructions and a tips sheet to help you with application.
What to do now?
Go and check out the Aviattic website – it's well designed and easy to navigate and you will discover a whole new world of great decals and products to spend your money on. We will be using some of these decals on a future project so keep an eye out on Build Now for any WWI projects to see how we get on.
Highly recommended
Geoff C.