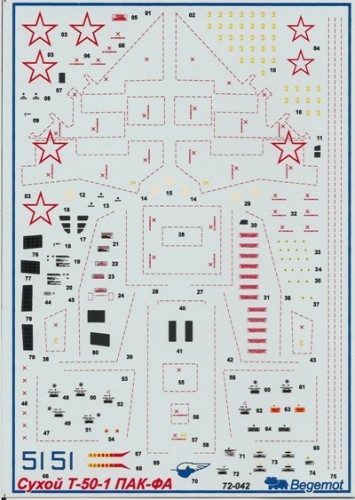 Sheet Ref: 72-042
Designed for: Zvezda T-50 (7275)
Review by Es George (March 2012)
A note from Geoff…
Having waited until Es completed his project we can now bring you his review of this impressive decal sheet. Although Es did complete his model a little while ago here is a photo of it, resplendent in Begemot decals; you can read Es's full build here.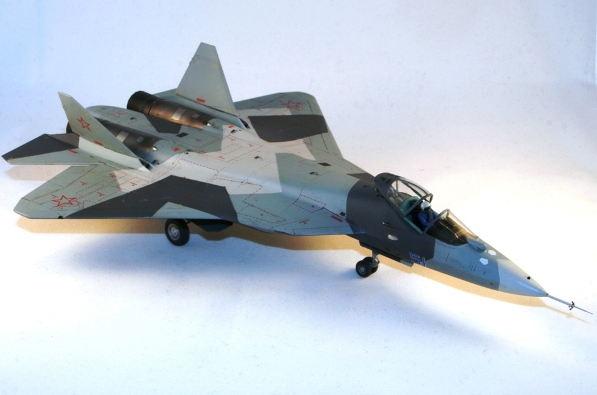 Initial assessment…
The otherwise excellent Zvezda T-50, which, at the time of writing, is the only 1:72 scale option for this jet, has a very basic decal sheet. Now, whilst this sheet from Russian producer Begemot provides the same option as the kit version, it does so in detail and in great style.  The decal instructions provide a short history of the programme, and are in Russian and English. It states that the markings are for the first flying prototype as it was in the summer of 2010; from the references I have, this matches contemporaneous photographs.
The kit's decal sheet gives around 33 airframe decals. I haven't counted all the decals on the Begemot sheet, but given that there are 40 'lift here' symbols alone, it gives you an idea of how much extra detail the sheet adds to the kit.
The decals are well printed and have a nice sheen to them; they appear to be of comparable quality to those at the top end of the market.
The 'no step' boundaries are provided as complete decals, including the outlined red star national markings, warning crosses and text and dashed red lines (which the kit completely omits, by the way); or alternatively, should you wish to use the decals on another manufacturer's T-50 model, additional dashed lines are provided to allow for precise positioning, as are additional red stars for the upper wing position.
The paint guide provides FS references where appropriate, to allow you to match with your favourite paint. Also included, as decals, are most of the 'radiotransparent' panels and other grills, which is a nice touch. Additional descriptions of colours used, for example, in the undercarriage bays, are also provided.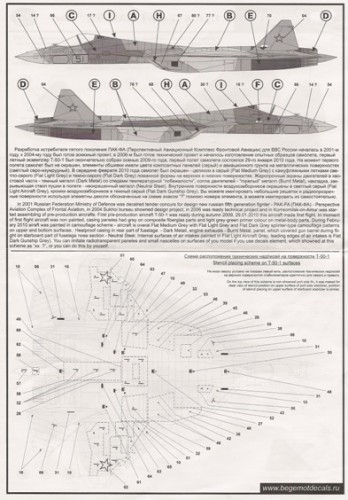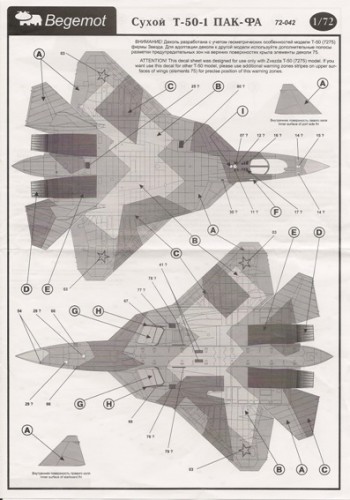 There has been some comment over the accuracy of the colour demarcations, but overall, this sheet can only be a huge enhancement to the Zvezda kit. Certainly, the overall guide improves what's in the kit box. Whilst it only provides one option, it is a well-executed one, which comes with much additional and useful information on the subject and it's aircraft.
Very highly recommended
Es G.