Set: OHM 48003
Review by: Geoff Coughlin (Oct 2011)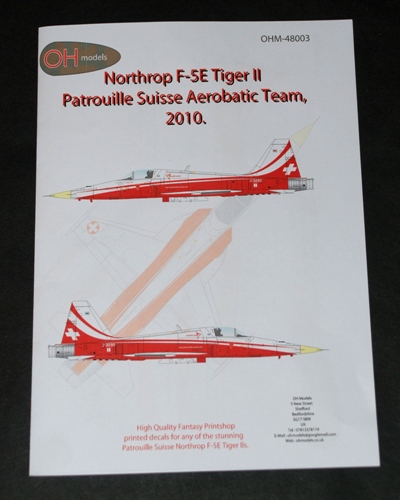 Our thanks to OH Models for supplying our review sample.
Subject Choice
OH Models may not be known to you because they are a new company and as they say on their website "are a new company aiming to provide high quality decals for model makers in a variety of scales covering a variety of subjects. All our decals are screen printed by Fantasy Printshop in the UK."
This says a lot about what's on offer. A quick trip to their website will reveal some interesting decal sheets that'll allow you to create something a little different.
This is definitely a case of striking while the iron's hot in terms of subject choice, with the AFV Club series of 1:48 F-5 kits not long been out, so that kit is likely to be your base model.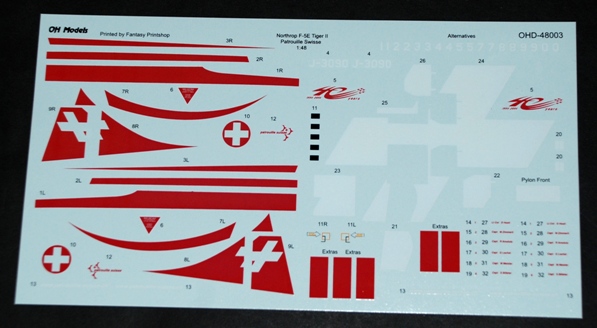 The aircraft of the Northrop F-5E Tiger II of the Swiss aerobatic team are very colourful but are basically red and white.
The decal sheet provides a number of markings in both red and white and it looks like you need to apply a base coat of red and then work in the new decal panels.
To be honest, I'm not quite sure how well this will actually work, not least because you are going to have to exactly match the paint colour to the decals. However, Humbrol, Xtracrylix, Gunze Sangyo and Xtracolor paint references are given as suitable possibilities.
I like the offer of a match but whether all four will accurately match the decal red colour is far less certain. So, test all four first to be sure, or maybe make your own masks from what's provided – planning is the order of the day here.
Personally, I think that if red decals had to be used then the best paint match only should have been suggested.
A nice touch is the inclusion of all the pilots' names so you can make any one of the team.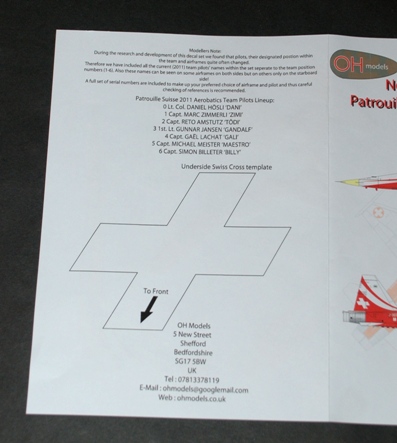 A mask template can be made from the one marked on the instruction sheet when you want to spray the feathered-edged offset cross on the underside of the fuselage. This again is a nice, helpful touch.
Quality
This looks good. With the decals being Silkscreen, there is almost no carrier film visible on each decal and any that is should vanish of you apply suitable decal softening solutions like Micro Set and Sol, or your preferred brand.
Colour density also looks good and all markings are in perfect register with what looks like accurate colouration. Fantasy Printshop decals are superb quality in my experience so these should work well.
Instructions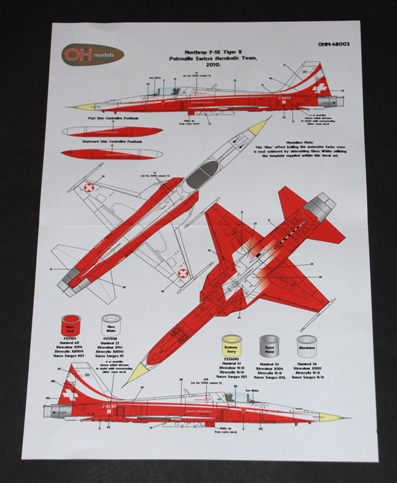 Impressive. Full colour, all aspect and good colour references to model paint manufacturer colours. Very helpful.
Conclusion
This is a good quality sheet covering an interesting subject.
If we can source an appropriate AFV Club kit we will try this sheet out, so keep an eye on Build Now!
On balance – Recommended.
Geoff C.