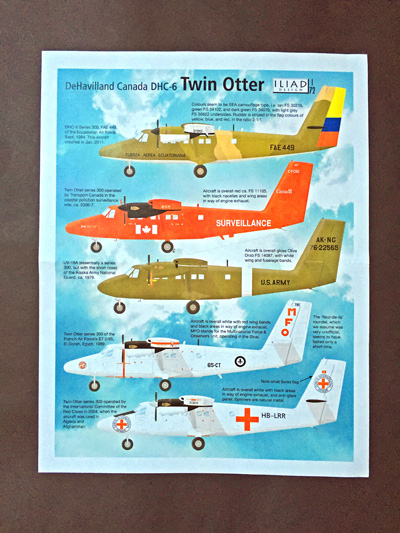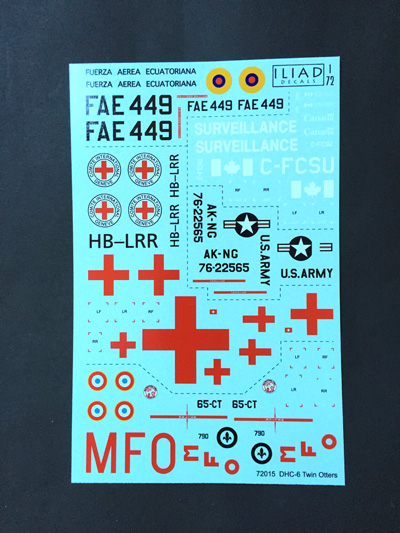 Ref: 72015
Price around: $12.00 Canadian
Review by Geoff Coughlin (Aug 2015)
My sincere thanks to Iliad Design for supplying our review sample – get this excellent quality sheet here now at www.iliad-design.com
A little bit about Iliad Design
All the decals that we have seen from Iliad Design are great quality in all respects. Iliad Design also produces books and colour charts and I strongly recommend that you visit their website above to see exactly what's on offer.
Sheet 72015 – De Havilland Canada DHC-6 Twin Otter
This is another impressive decal sheet from Iliad Design to add to their growing range of decals – we have already reviewed several of their sheets and can find those reviews here. This one useful-ly coincides with Revell releasing their 1:72 scale model.
Accuracy looks spot on to my eye and you get some very interesting schemes too covering 5 air-craft – all in various colours . You can see for yourself the specific aircraft featured:
• DHC-6 Series 300, FAE 449 Equadorian Air Force
• Twin Otter Series 300 operated by Transport Canada
• UV-18A (essentially a Series 300 but with a short nose) of Alaska Army National Guard
• Twin Otter Series 300, French Air Force, Egypt 1989
• Twin Otter Series 300 operated by International Committee of the Red Cross, 2004
… all very varied and interesting subjects and, as I say, just click the link above to take you to the decals and how to order them at Iliad Design.

Instructions
The instruction sheet is full colour and has clear all-aspect profiles indicating the location of all markings.
Highly recommended
Geoff C.