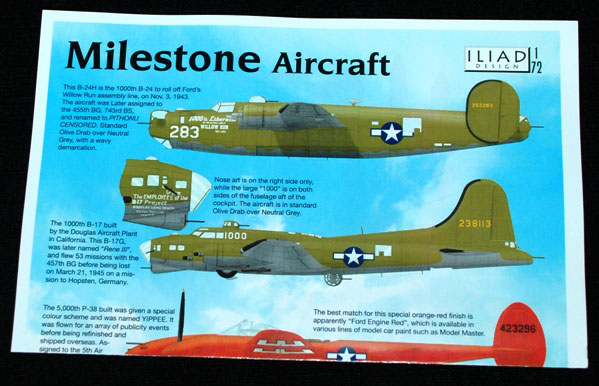 Ref: 72010
Price around: $12.00 Canadian (July 2013)
My sincere thanks to Iliad Design for supplying our review sample – get this excellent quality sheet here now at www.iliad-design.com 
A little bit about Iliad Design…
I had the good fortune to connect with Bob Migliardi at Iliad Design and he has sent over some new decal sheets that they produce – and great quality they are too! Iliad Design also produces books and colour charts and I strongly recommend that you visit their website above to see exactly what's on offer.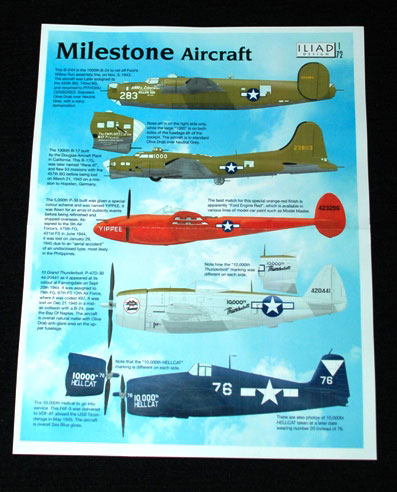 Sheet 72010
This is an unusual and very welcome sheet for some colourful 'Milestone' aircraft featured, this time in 1:72. The quality looks to be excellent with good solid whites in the 'stars-n-bars' as well as the great 'YIPPEE' letters for the underside of the P-38. The codes where appropriate look good and opaque as do the remaining colours on the markings. The carrier film looks to be very thin and minimal excess on view. Detail is very high quality with all markings in perfectly register and alignment.
Accuracy looks spot on to my eye and you get some very interesting schemes too covering no less than 5 aircraft:
B-24H, the 1000th B-24 to roll off the Ford Willow Run assembly line on Nov 3rd 1943. The aircraft was later assigned to the 455th BG, 743rd BS and renamed PITHONU CENSORED. Standard Olive Drab over Neutral Grey with a wavy demarcation
The 1000th B-17 built by the Douglas Aircraft Plant in California. This B-17G was later renamed "Rene III" and flew 53 missions with the 457th BG before being lost on March 21, 1945 on a mission to Hopsten, Germany
The 5,000th P-38 built was given a special colour scheme and was named "YIPPEE". It was flown for an array of publicity events before being refinished and shipped overseas. Assigned to the 5th Air Force's 475th FG, 431st FS in June 1944 it was lost on January 29, 1945 due to an aerial accident most likely in the Philippines
The 10 Grand Thunderbolt, P-47D-30 44-20441 as it appeared at its rollout at Farmingdale on Sept 20th 1944. It was assigned to 79th FG, 87th FS 12th Air Force where it was coded X97. It was lost on Dec 21 1945 in a mid-air collision with a B-24 over the Bay of Naples. The aircraft is overall natural metal with Olive Drab anti-glare area on the upper fuselage
The 10,000th Hellcat to go into service. This F6F-5 was delivered to VDF-87 aboard the USS Ticonderoga in May 1945. The aircraft is overall Sea Blue Gloss.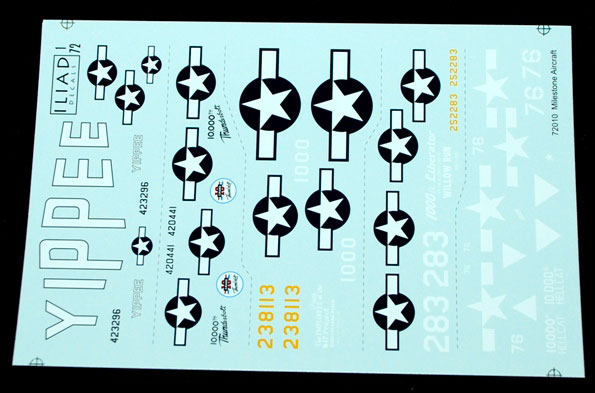 Instructions
The instruction sheet is full colour and has clear profiles indicating the location of all markings.
Highly recommended
Geoff C.