Review by: Geoff Coughlin (December 2011)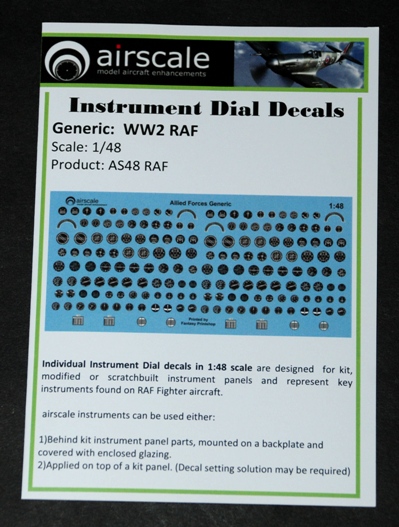 Our thanks to Airscale for supplying our review sample.
I recently completed the very impressive Alley Cat 1:48 scale Shorts Tucano and, as good as that kit is, there are no instrument decals. Enter Airscale.
This company was fantastic at supplying this set, along with one or two others you'll soon read about in Here Now and it's fair to say I couldn't have completed that project without these instrument dial decals.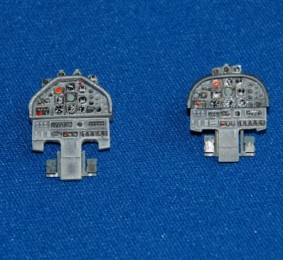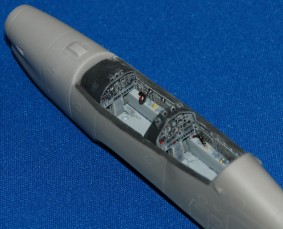 Sure, the dials I used aren't strictly accurate, but, to me, they look good enough for me and that just fine.
The age old problem…
The fact is, when you are faced with a situation like I was with the Tucan,o you have very few options that will look satisfying when the project is complete.
Raid other decal sheets? Possibly, but probably expensive and a case of robbing Peter to pay Paul I think.
Hand paint them in? I don't think so, you'd just never get the finesse or fine detailed look I'd want. No, a decal sheet like this one from Airscale is the perfect solution.
The Airscale Sheet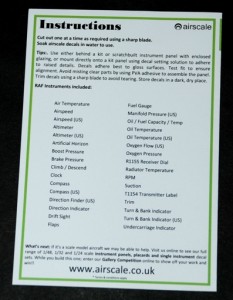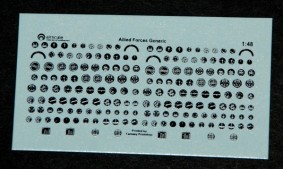 Each dial comes as a separate item – fantastic! No fiddly job of cutting out individual dials from a solid backing sheet, which I have had to do before.
The dials are well printed, in perfect register and go on very well, especially onto a glossy surface.
In fact that's all you need to do, gloss up the surface and apply the decals in positions that most closely resemble that of your subject. Further Reference will help you. It couldn't be simpler.
The decals went on easily using Micro Set decal wetting solution.
Highly Recommended.
Geoff C.