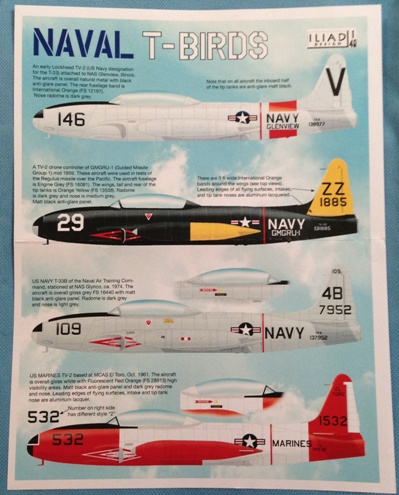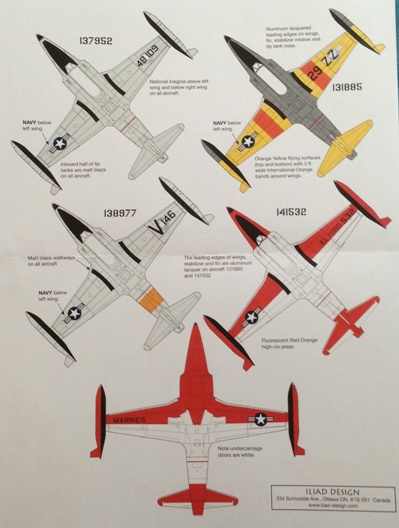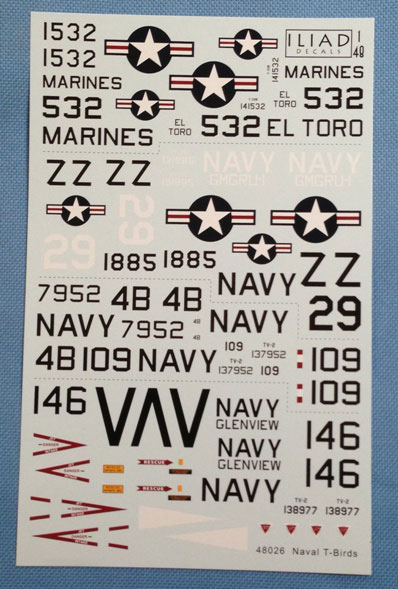 Ref: 48026
Price: around: $12.00 Canadian (September 2013)
My sincere thanks to Iliad Design for supplying our review sample – get this excellent quality sheet here now at www.iliad-design.com
A little bit about Iliad Design
I had the good fortune to connect with Bob Migliardi at Iliad Design and he has sent over some new decal sheets that they produce – and great quality they are too! Iliad Design also produces books and colour charts and I strongly recommend that you visit their website above to see exactly what's on offer.
Sheet 48026
Now here's something different – US Navy T-Birds – very different to the usual T-33 markings. Models of the type are readily available in this scale and so all the markings on offer here should fit pretty much any model available in the scale. The quality looks to be excellent with good solid whites in the 'stars-n-bars' and stencils where appropriate and opaque colours for the remaining decals. The carrier film looks to be very thin and minimal excess on view. Detail is very high quality with everything in perfect register – great!
Accuracy looks spot on to my eye and you get some very interesting schemes too covering no less than 5 aircraft. You can see for yourself the specific aircraft featured; all very varied and interesting subjects and, as I say, just click the link above to take you to the decals and how to order them at Iliad Design.
Instructions
The instruction sheet is full colour and has clear all-aspect profiles indicating the location of all markings.
Highly recommended
Geoff C.