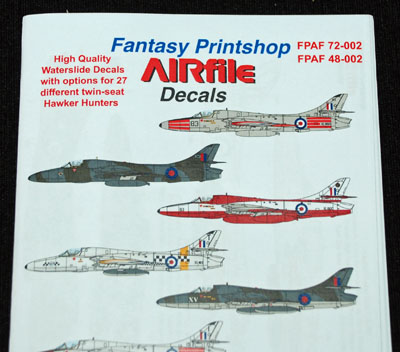 1:72 scale: FPAF 72-002 (reviewed here)
1:48 scale: FPAF 48-002
Price around: £12.95 GBP
Review by Geoff Coughlin (August 2014)
Our thanks to Fantasy Printshop for sending us our review samples. Get these excellent decals here now.
There are some excellent models of the Hawker Hunter available in 1:72 scale – the very good Revell offering, not to mention the excellent 1:32 model by Revell too. 1:48 is less well served and an all-new tool Hunter in that scale is sorely needed and would sell incredibly well (are you listening out there manufacturers!!).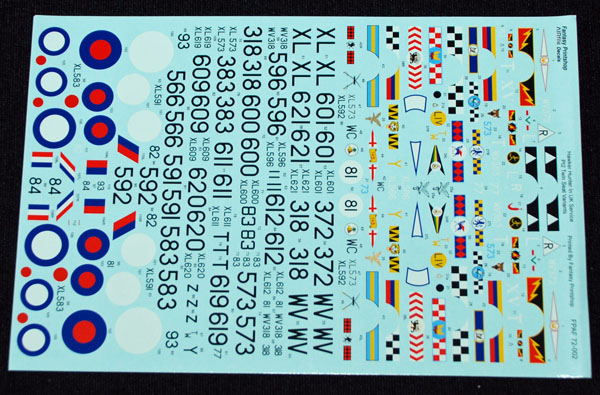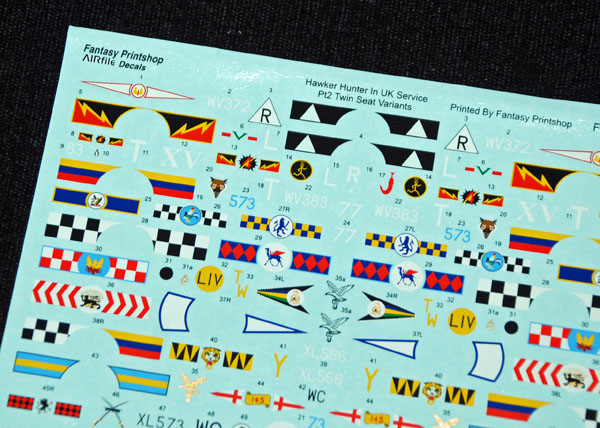 Back to this package, for that's exactly what you get here – decals for no less than 27 different Hawker Hunters in 1:72 and all are twin-seaters. There is a complimentary set (also reviewed in Here Now) covering single-seat Hunters. Quality is very good as anyone who has used decals from Fantasy Printshop before will know.
In fact, coincidentally, as I type this review we have just started to run Mick Stephen's excellent 1:72 twin-seat Hunter T7 conversion using the Revell base kit and LF Models resin conversion set. You can follow this now in Build Now and when it's completed (depending on when you read this) in Finished Now.
The sheer variety of squadron schemes available is breath-taking and all available at an incredibly reasonable price. Quality of these water-slide decals is excellent – good colour saturation, markings in register and authentic detail.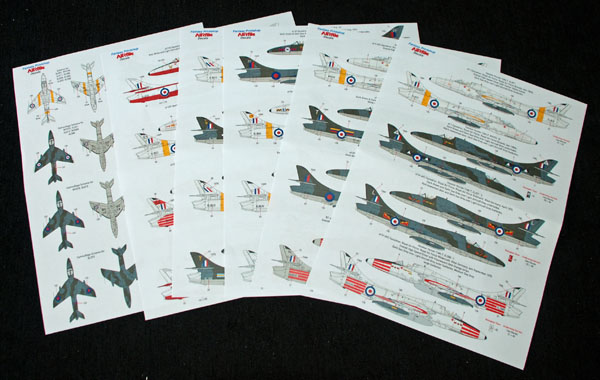 Instructions
The instructions are very clear with full colour views and clear labelling so you should have little difficulty placing the markings you need.
AIRfile Publications book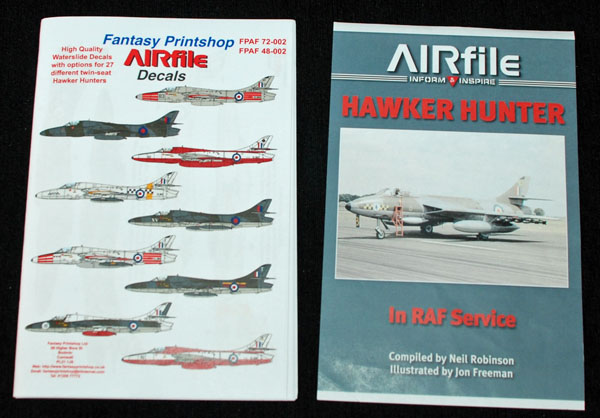 This is a stunning reference book (reviewed in your SMN Book review area) and this decal sheet (as well as the one for single-seat Hawker Hunters – Set 001) compliments each other perfectly. We plan to undertake many more 1:72 scale aircraft model projects in the next couple of years and beyond and the Hawker Hunter has already featured as I've said!
You should have no trouble adding these decals to whatever model you have made and I recommend them wholeheartedly.
Geoff C.