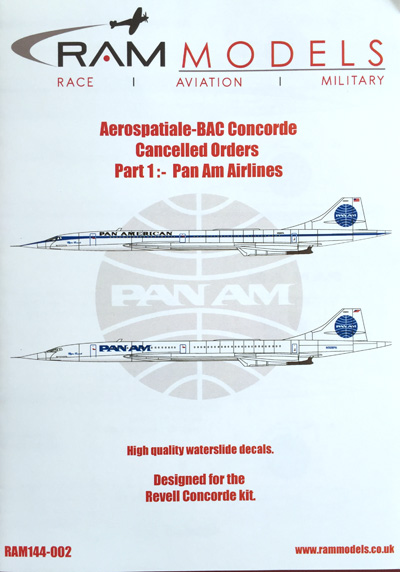 Ref: RAM 144-002
Price around £9.99 GBP (Sep 2016)
Thanks to RAM Models for supplying this review sample – get it and many other products from www.rammodels.co.uk
You can see that we're reviewed several decal sheets from RAM Models previously in SMN – see the Here Now-Aircraft-Decals main page, right panel
This is RAM Model's first "What-if" decal sheet and features the BAC/Aerospatiale Concorde and features aircraft liveries that were likely to be applied by Pan Am had they gone ahead with planned orders for the type.
Two options are included:
The first is based on Pan Am's own Concorde advertising material from the period
The second is the classic "bill board" scheme.
Designed to be used with the Revell 1:144 scale kit these decals give you a great opportunity to create something different to the more usual Air France or BA schemes applied to the real aircraft.
Quality is very good with the decals in register, well printed and offering good colour matches to the real aircraft.
Recommended
Geoff C.