Cougar Trainer CAGs F/D&S 4801 ($19.99)
Cougar Trainers F/D&S 4802 ($19.99)
Blue Angel Cougars F-D&S 4805 ($15.99)
1:48 scale
Review by Geoff Coughlin (October 2014)
Our thanks to Furball Aero Design for sending across our decal sheets for review you see here – get these impressive sheets here at Furball Aero Design
These decals are released soon after the release of the Kitty Hawk TF-9J Cougar kit in 1:48 scale and we have the in-box review of the Kitty Hawk TF-9J Cougar here.
The full build of the Kitty Hawk model here, using decals supplied in the kit (these new decal sheets from Furball were released after that project was completed).
Read our review of the excellent Detail & Scale F-9 Cougar e-book reference.
Watch the SMN Video Review…
I have created a short video review for you to see and the grid below sums up what we think of these decal sheets.

Furball Detail & Scale decal sheets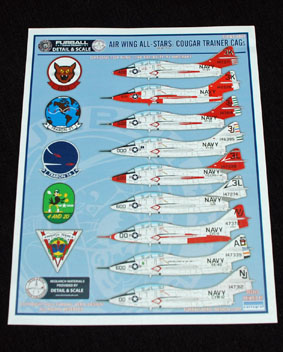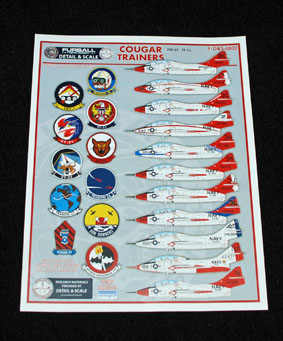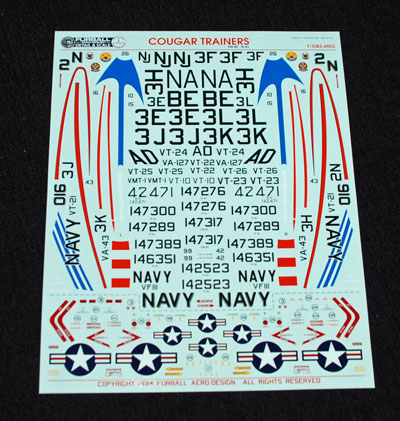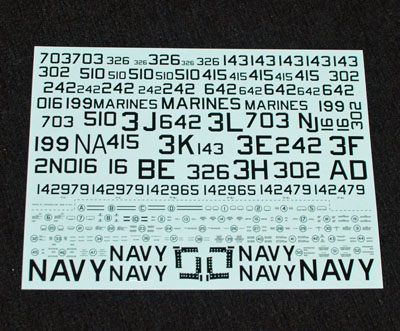 SMN Quick summary Star rating out of 5
| FEATURE | STAR RATING (out of five) |
| --- | --- |
| Quality of printing | ***** |
| Colour saturation and density | **** |
| Decals in register | ***** |
| Instructions | ***** |
| Accuracy | ***** |
| Provision of stencil data | Yes |
| Other notes | Cartograf |
| Subject choice | **** |
| Overall | ***** |