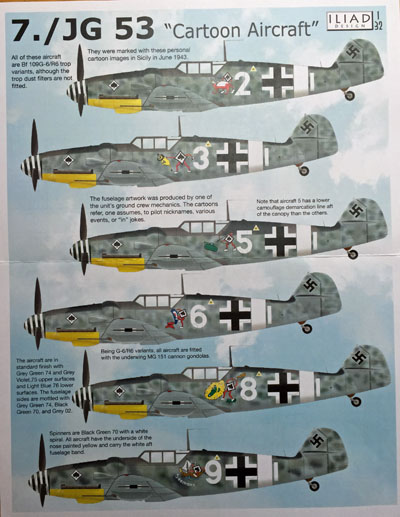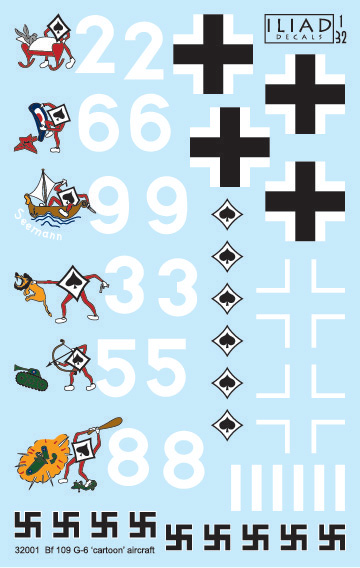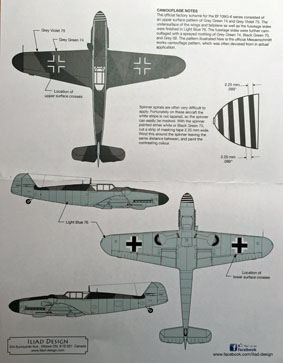 Ref: 32001
Price around: $12.00 Canadian
My sincere thanks to Iliad Design for supplying our review sample – get this excellent quality sheet here now at Iliad Design
A little bit about Iliad Design
I had the good fortune to connect with Bob Migliardi at Iliad Design and he has sent over some new decal sheets that they produce – and great quality they are too! Iliad Design also produces books and colour charts and I strongly recommend that you visit the Iliad Design website to see exactly what's on offer.
Sheet 32001
This is another impressive decal sheet from Iliad Design to add to their growing range of decals – we have already reviewed several of their sheets and can find those reviews here.
What is particularly good this time is that we have a new sheet in 1:32 scale and it covers aircraft that are going to be of great interest to Luftwaffe fighter modelling fans.
Accuracy looks spot on to my eye and you get some very interesting schemes too covering no less than 6 aircraft (as is usual for Iliad), all Bf 109G-6 aircraft and so perfectly timed for the impressive and extremely reasonably-priced Revell Bf 109G-6 kit (see SMN review) in this scale that is widely available as I write these words. You can see for yourself the specific aircraft featured; all very varied and interesting subjects and, as I say, just click the link above or here to take you to the decals and how to order them at Iliad Design.
Instructions
The instruction sheet is full colour and has clear all-aspect profiles indicating the location of all markings.
Highly recommended
Geoff C.