Ref: 32002
Review by: Geoff Coughlin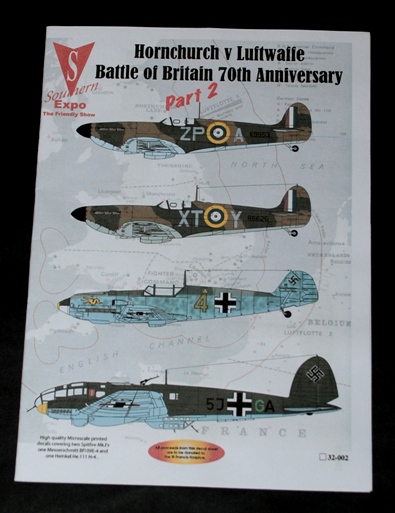 Our thanks to Peter Bagshaw and the Southern Expo guys for the review samples. Find much more information and details here.
These decals were first made available at the Southern Expo model show on 24th & 25th March 2012.
Available direct from the manufacturer for £7.50 (including UK postage), they are also available for £7.95 from 3D-Kits or at £8.50 a sheet for International post.
Currently, they have been printed by Microscale in 1:32 scale only (for now!).
The Decals – more info
These incredibly interesting sheets are printed by none other than Microscale and are therefore excellent quality. In perfect register, great colour tones and just stunning!
There's some great options on this sheet:
2 different RAF Spitfire aircraft schemes are included
1 Messerschmitt Bf 109E-4
1 Heinkel He 111H-4
Specific aircraft featured are:
Supermarine Spitfire Mk.1A, K9953, 'ZP-A', flown by Flt.Lt. Adolf 'Sailor' Malan of 74 Squadron, RAF based at RAF Hornchurch 19 June 1940
Supermarine Spitfire Mk.1A, R6626, 'XT-Y', flown by Flg. off. 'Ras' Berry of 603 Squadron, RAF based at RAF Hornchurch 31 August 1940
Bf 109E-4 'Yellow 4', Werk Number 1082, flown by Oblt. Helmut Rau, Staffelkapitan of 3./JG3 based in France, 31 August 1940. You can use the main black crosses from the kit decal sheet, using the ones supplied here for the underside of the wings on the Bf 109E-4
Heinkel He 111H-4 '5J+GA', Werk Number 2894 flown by Lt. Erich Simon of KG4, based in France, 18 June 1940.
What's the Verdict?
As with Part One of this set, this is truly outstanding innovation by the Southern Expo guys; congratulations on producing something original, high quality and unique. Excellent stuff.
Buy these sets; you'll be able to create something very original and different, whether your interest is RAF or Luftwaffe subjects from WWII.
| FEATURE | STAR RATING (out of five) |
| --- | --- |
| Quality of printing and items | ***** |
| Accuracy | ***** |
| Instructions | ***** |
| Decals | ***** |
| Subject choice | ***** |
| Overall | ***** |
Geoff C.
N.B. If you want to order these decals direct from Southern Expo, please email SouthernExpo@tiscali.co.uk.