Set: 72-001(2)
Review by: Geoff Coughlin (Oct 2011)
Our thanks to SM Decals for supplying our review sample.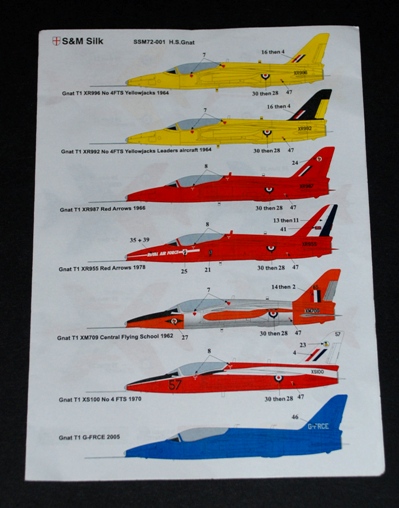 Subject Choice
A great subject choice with this company's first release – the Hawker Siddeley Gnat.
Although I'm happy to be proved wrong, I believe the only kits that have been available in 1:72 of the Gnat are the Airfix and now long-since departed Matchbox products.
The Airfix kit certainly looks right in shape, although because of its age is rather basic – especially in the cockpit and wheel well areas. Having said that, time and energy spent adding some scratch detail and choosing a decent set of aftermarket decals will pay dividends.
We can help you with the first – check out your Techniques Bank and, now, SM Decals will help you with the second.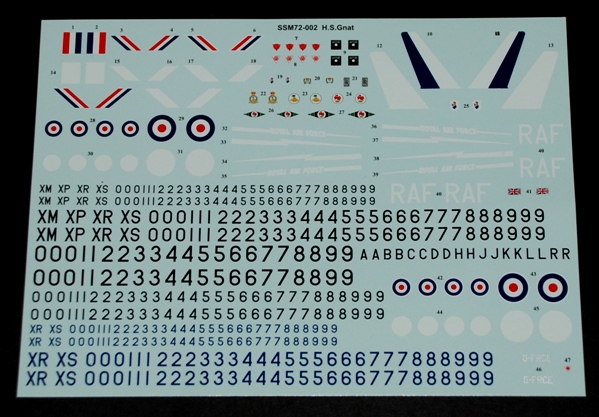 These are the aircraft that you get:
Gnat T1 XR996 No.4 FTS "Yellowjacks" 1964
Gnat T1 XR992 No.4 FTS "Yellowjacks" 1964 – Leader's aircraft with partial Black fin
Gnat T1 XR987 "Red Arrows" 1966
Gnat T1 XR955 "Red Arrows" 1978
Gnat T1 XM709 Central Flying School 1962
Gnat T1 XS100 No.4 FTS 1970
Gnat T1 G-FRCE 2005
You should be able to find the Airfix kit for the chosen subjects.
Instructions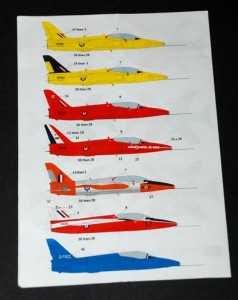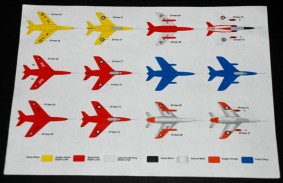 These are all-colour copied onto two sides of a sheet of A4 paper. Information is limited and not as full as the more recent sheets by this manufacturer, which are much better.
Having said that, you really don't need a lot of info to locate your markings accurately. BS colour references are included where appropriate and that's useful, so that you can identify appropriate paints from your favourite manufacturers' range.
Quality
Very impressive. With the decals being silkscreen printed by Fantasy Printshop, there is almost no carrier film visible on each decal and any that is should vanish if you apply suitable decal softening solutions like Micro Set, Sol or your preferred brand.
Colour density is very good and all markings are in perfect register with what looks like accurate colouration.
Conclusion
An excellent decal sheet. Highly Recommended.
Geoff C.