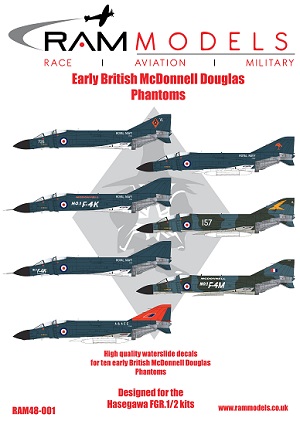 Scale: 1:48 (and 1:72 scale)
Ref: 48-001 (and 71-001)
Price: £19.99 GBP (and £15.99 1:72)
Review by Geoff Coughlin (September 2015)
Our thanks to RAM Models for supplying our review sample – get these excellent decals here now at: Ram Models
It's been a while since we received new items from RAM Models and what a re-entry we have here with this comprehensive sheet covering a large number of Phantom F-4 FG-1 and F4-M Phantoms that served with the British Royal Navy and Royal Air Force.
The subject choices are great, featuring some of the more varied and colourful schemes worn by the type in service.
A separate sheet is included that features the large serial numbers worn on the undersides of these aircraft.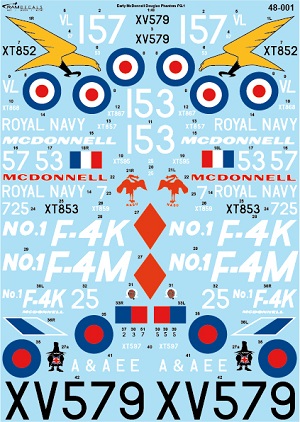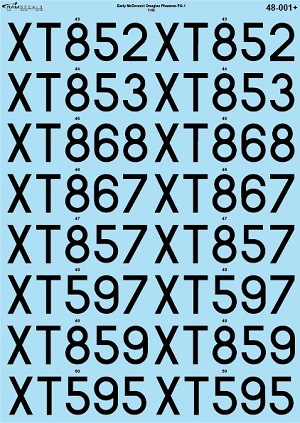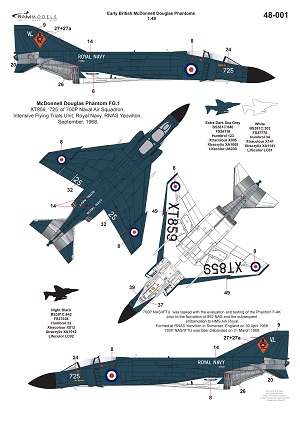 Quality
Quality is superb, the decals being printed by the Fantasy Printshop. All markings are in register, colour authentic and saturation good.
These decals may look a little pricey although on the plus side, you get a lot of F-4 Phantom aircraft to choose from. By adding in some basic national insignia from your spares box, you can use multiple items from the sheets offered here and minimal cost, so what's not to like?
It's great to see further decals from Ram Models and we hope that they sell well because high quality products deserve to do well when they also offer relevant, interesting and exciting subjects.
Recommended
Geoff C.