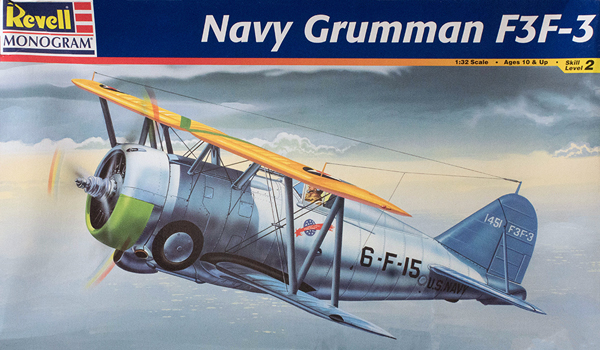 with Alan Rowley
My motivation for building this kit was the challenge of making a reasonable model from a fifty plus year old classic, the Monogram/Revell Grumman F3F. Not an attempt at scale accuracy on my part, but a success for me would be to feel happy with it sitting on the shelf, next to my Trumpeter Bearcat.
The Plane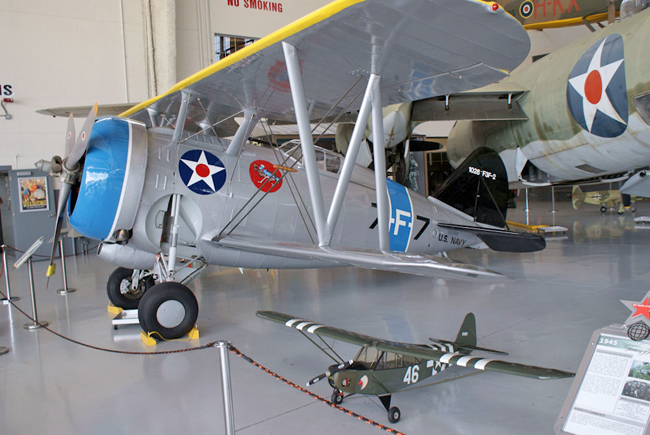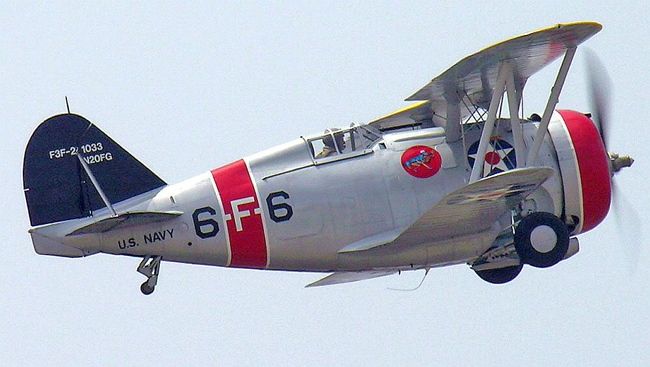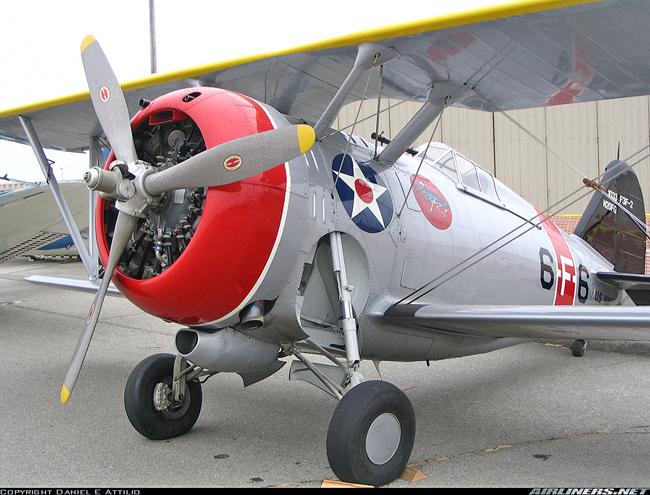 The subject was always a favourite plane of mine and I feel that its portly shape should give it a wider appeal. The "Flying Barrel" as it was immediately christened had a short service life, with mercifully no combat experience. It served the US Navy and USMC front line squadrons from 1937 until 1941 and was said to be sweet to fly.
Often (wrongly) thought of as a biplane version of the famous F4F Wildcat, the F3F was the last of the US Navy's biplane fighter aircraft. With hindsight we may think of it as outdated compared to some of the more advanced land-based monoplanes then coming into service. Things were never simple though, and its performance was competitive with the naval fighters then used by the major powers, even with the predecessor to the Zero, the monoplane Mitsubishi A5M. As a subject for a model it has great appeal, particularly as it served in every combination of US Navy "Yellow Wings" colour schemes, in early war USMC colours and in the livery of US based early/ mid war training squadrons. A total of 147 were built, most seeing out their days as trainers during WW2, both for pilots and finally for aircraft mechanics.
Three civil versions of the aircraft were produced, of which more later.
The Model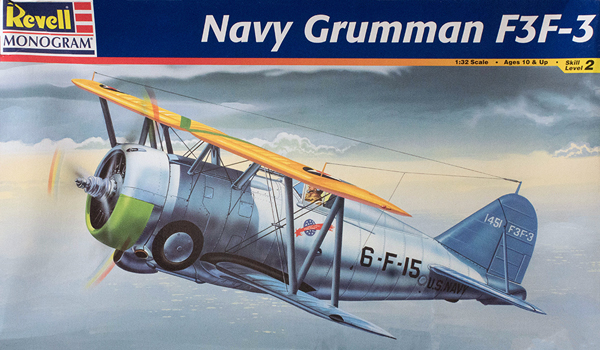 Originally introduced by Monogram in 1960, the model initially represented a civil version "Gulfhawk 2". A few years later a model with new decals was released to represent a USN F3F aircraft. The two versions were offered for many years and finally, when Monogram were taken over by Revell, the kit was re-boxed and sold as a Navy Fighter under the Revell brand. It is this version which is most commonly found on eBay. The real Gulfhawk was presented to the nation in 1948 and still resides in the Smithsonian Institute. It may well have been used as a reference by Monograms designers as like their model, The Gulfhawk was something of a hybrid between the F3F and its predecessor, the F2F. Some of these oddities show up in the kit.
The kit itself has several imperfections, and it would be easy to criticise when compared to a current day product. That would be unkind. The engineers at Monogram worked on this kit almost sixty years ago. To say it was a different world then is both a cliché and an understatement. When this kit was released in 1960 Eisenhower was President, Footballers had a maximum wage of £20 per week and the UKs favourite TV personality was Arthur Askey! It was also quite conceivable that when this kit hit the shelves in Woolworths, an ex-marine aviator who had trained on this aircraft and had then gone on to fly Hellcats in the Pacific would still be in his mid-thirties.
Plastic injection moulding for the toy and hobby market was still in its infancy. That's not to say it was impossible to then make accurate plastic mouldings, but the development of moulding processes and of plastics in general meant that accuracy which we take for granted today was not mass produced at pocket money prices.
The best kits becoming available at the time in the UK were probably Airfix, who had used Monogram both as an inspiration and a quality benchmark for their then new 1:72 range of aircraft models (See "Classic Kits" Arthur Ward, Collins 2004). This kit measures up well alongside those early Airfix efforts, but it does have its problems…. Lots of 'em!