Reviewed by Geoff Coughlin (2010)
Our thanks to The Airbrush Company Ltd for supplying the review samples www.airbrushes.com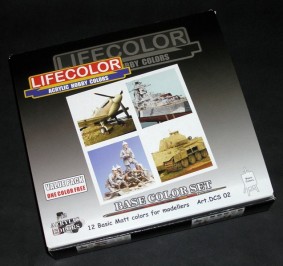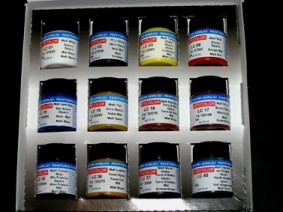 You will likely be familiar with the other entries in Here Now relating to these excellent paints from Lifecolor. Many of the other sets are thoughtfully collated into sets relative to a theme that will interest scale modellers. This set, in contrast is a really handy box featuring twelve basic matt colours that we're likely to use for umpteen uses during the course of our hobby. Usefully, their respective FS numbers have been attached and that's always useful for aircraft scale modellers as well as others too of course.
The 12 bottles of acrylic paint included are a good selection of colours. Specifically the colours included are:
LC 01      FS 37925               White
LC 02      FS 37038               Black
LC 03      FS 33591               Yellow
LC 06      FS 31302               Red
LC 10      FS 35052               Dark Blue
LC 15      FS 33245               Tan
LC 16      FS 30076               Raw Siena
LC 17      FS 30108               Brown
LC 35      FS35044                French Blue
LC 36      FS 33275               Leather
LC 37      FS 30040               Burnt Umber
LC 40      FS 34062               Dragon Green
These colours are designed to be hand and airbrushed and have good opacity and durability. Lifecolor thinner is recommended. The box back contains useful information on how to work with these good quality modelling paints, and that's always useful.
We'll be looking to incorporate these paints into some of our projects and so further information about what we find will be contained in the relevant Build Now and Finished Now scale model reviews.
Recommended
Geoff