Reference number: HDF-TS-02
Review by Bill Curtis
Our thanks to The Airbrush Company Ltd for supplying the review sample. Get these sanders here now at: www.airbrushes.com
What do we think?
This is a sanding stick which comes in a blue and black blister pack with yellow text containing one stick. The stick is 150mm in length and has three grits as follows: one complete side with number 2 grit while the reverse is divided into two halves numbered 1 and 0.
Instructions are on the rear of the packaging advising the stick can be used for removing seams, shaping, sanding and polishing surfaces. One starts with the number 2 grit for removing large amounts of material working down to the 0 for final polishing. Clean up is done with soap and water to remove the dust particles.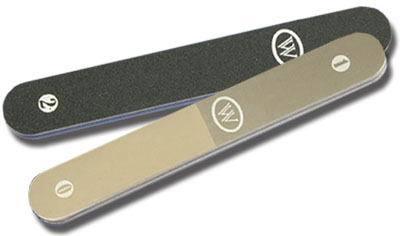 I tried this out on the seam on the leg of a figure and it works as promised with a very smooth finish being the end result. For smaller areas and difficult to reach places I would cut the stick down for ease of use.
The verdict
A useful product, which I will be using on my next project, as the grits are the same as on the sanding block (product 01) but in a smaller form.
There are also other sanders in the range that cover most tasks so it's worth taking a look at The Airbrush Co website to see what's on offer in the range.
Bill C.