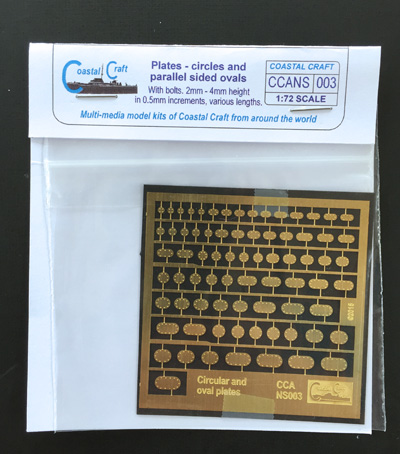 1:72 (applicable to all scales and many subjects)
Set CCANS 003
Coastal Craft Models
See website for current price
Review by Geoff Coughlin (June 2016)
Our thanks to Coastal Craft Models for supplying this useful PE accessory set – get it and many other kits and accessories at Coastal Craft Models
Now here's a useful little accessory set – circular and oval PE plates with rounded corners in different sizes that you can add to just about any modelling subject, whatever you are interested in. Uses are endless and as an aircraft modellers in the main I can think of fuel hatches open or closed or maybe inspection hatches, replacing or enhancing moulded kit detail and so on.
Each small plate has tiny rivets moulded in and quality of the fret is excellent.
Highly recommended
Geoff
Here are some other shapes that are available separately from CC Models.