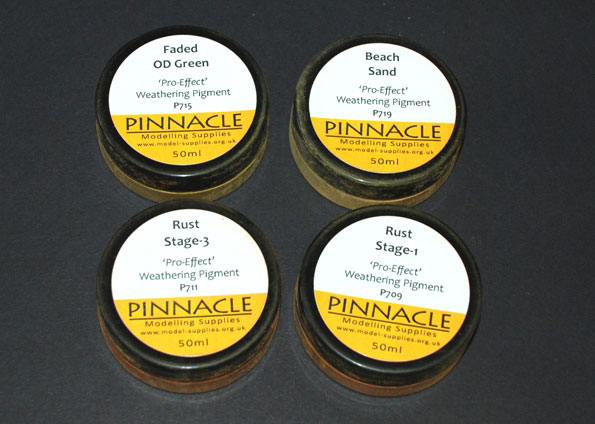 Price £3.95 GBP each plus P&P
Review by Geoff Coughlin (Mar 2013)
50ml 'bench-safe' container
Our thanks to Bruce Heideman at Pinnacle Modelling Supplies for letting us have the review samples. Get these impressive weathering powders here now at Pinnacle Modelling Supplies
There are many manufacturers now supplying weathering powders and pigments and we have featured several of them here in your Here Now area of SMN. I have to say that this manufacturer is new to me and I'm pleased that Bruce sent through some of his samples for us to take a look at.
The pigment is extremely fine and I like that, it allows for much more subtle effects to be created on the model. There are many colours and tones available (32 at the time of writing) in this growing range and so you will do well to check out the Pinnacle website when you can to see the latest colours in their range.
Please note that the pots you see in the images below are smaller than those supplied if purchased (see the photo at the head of this review).

Bill C, SMN's Armour Editor has given these weathering products a good go and you can see his comments here: www.scalemodellingnow.com/hntools-pinnacle-modelling-supplies-weathering-pigments
Geoff C.