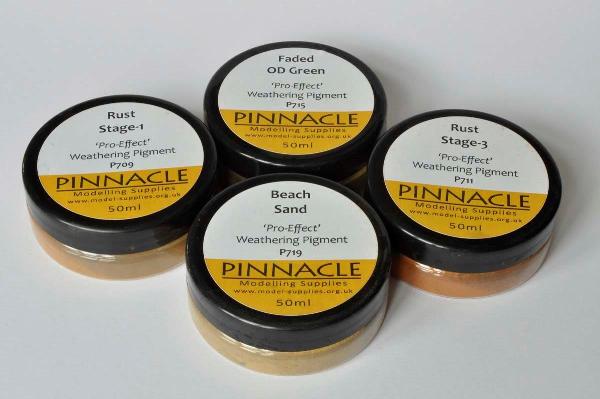 Pro Effect Pigments An armour modeller's view!
Review by Bill Curtis (Jul 2013)
Our thanks to Bruce at Pinnacle for supplying our review samples
Initial assessment
Pinnacle Modelling Supplies is a new company started by Bruce Heideman who is a model maker.
Pinnacle "Pro-Effect" Weathering Pigments are supplied in 50ml containers compared to other suppliers; Mig is 20ml, Humbrol is 28ml, and AK Interactive is 35ml and comes in a container which is 70mm round by 27mm high (approx). The shape is good for two reasons, It should never tip over and the large opening will allow easy pouring of pigment left over from your weathering project back into the container.
Pinnacle's aim is to supply the modeller with high quality pigments while at the same time offering good value. At present about 30 colours are in the range which are quite vibrant and I suspect more to follow.
Bruce has been involved in the Powders Industry and has used his expertise to produce these pigments and has had them tested by skilled IPMS members over a year to ensure there quality.
Lists of the pigments are as follows:-
• Concrete Dust (50ml)
• Faded OD Green (50ml)
• Industrial Dust (50ml)
• Desert Sand (50ml)
• Brick Dust (50ml)
• Brown Earth (50ml)
• OD Green (50ml)
• Russian Green (50ml)
• Rust Stage 4 (50ml)
• Light Ash (50ml)
• Beach Sand (50ml)
• Exhaust Black (50ml)
• Rust Stage 2 (50ml)
• Dark OD Green (50ml)
• German Grey (50ml)
• Medium Mud (50ml)
• Dark Ash (50ml)
• Rust Stage 6 (50ml)
• Rust Stage 5 (50ml)
• Rust Stage 1 (50ml)
• Arctic White (50ml)
• Red Earth (50ml)
• Light Mud (50ml)
• Volcanic Sand (50ml)
• Rust Stage 3 (50ml)
• Grey Earth (50ml)
• Light Brown Earth (50ml)
• Dark Mud (50ml)
• Dark Brown Earth (50ml)
• Steel (50ml)
I have had a quick try at using them and found them easy to use. I applied a sandy colour onto the back engine deck for an overall dust effect and set it in place by spraying on Tamiya X-20 Thinner at low pressure from about 6 to 8 inches away. I had scrubbed in the pigment with an old brush and now wanted to see if it could be removed by scrubbing alone. It stayed in place.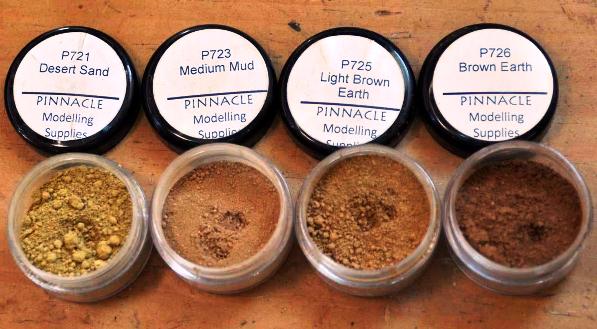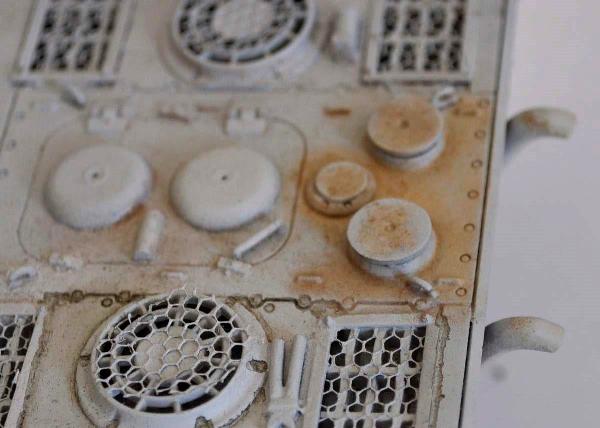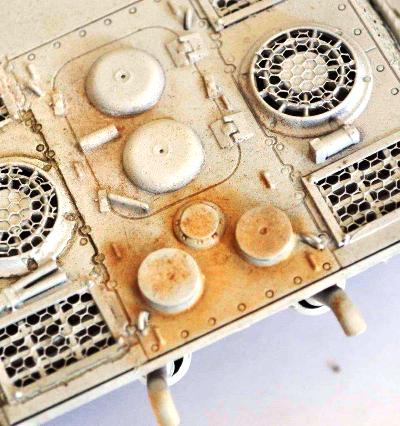 I had been supplied with some small sample pots and taking four brown colours sprinkled some of each on the fenders of a King Tiger, which is used as a trial unit for painting etc., with an old paint brush. I then applied odourless white spirit with a pointed detail brush wetting the pigment by capillary action to set it in place. Again this worked well and the pigment that was a little lumpy stayed that way, which will be an advantage when used as mud on tank hulls. It can be broken down quite easily with a dry paint brush.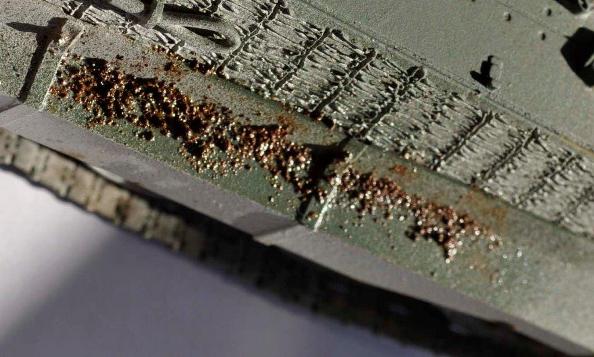 I now took the raw steel and applied this to the fender and fixed it with white spirit and allowed it to dry for twenty minutes. I then pulled the previously applied pigment down over the steel and using some of this colour applied it in spots over the steel. I then pulled or streaked this in a downward motion on the near horizontal part of the fender and also the vertical sheet metal. The latter was done in a more subtle way as the other was a little over the top.

Conclusions
I found them to be easy to use and adhere well to a matt surface very well. I don't handle my models excessively but I think that a coat of matt or semi matt varnish would seal in the pigment but remember only a thin light coat as the varnish can destroy the pigment finish and also darken the colour. I really like the pots and the contents are vibrant in colour.
I will be using them on my next model as this was only a quick trial but I think I will be happy with the results.
A final point, visit the web site for a complete list of colours and useful information regarding using the products which I found informative.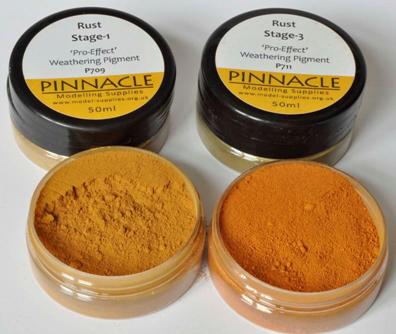 Recommended
Bill C.