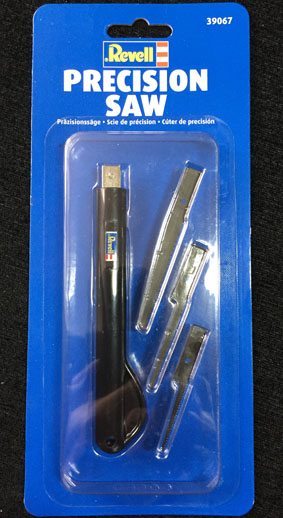 Ref: 39067
Price around £8.99 GBP (July 2015)
Review by Geoff Coughlin
Our thanks to Revell for supplying our review sample. Revell model kits are available from all good toy and model stores. For details visit www.revell.de/en
It's great to see that Revell is producing some good tools – they always have, ever since I really got into scale modelling.
What you have here is a well-engineered precision saw or razor saw as they are often called with interchangeable blades.
These are useful sized blades that will be suitable for most of our needs as plastic scale modellers.
Back to this Revell precision saw – all you do is insert your chosen blade and firmly secure.


Hand-held razor saws are really important tools, mainly because they give you plenty of control over the speed and precision of the cut you are looking to make.
Recommended.
Geoff C.