Price: £4.99 (Feb 2013)
Review by Geoff Coughlin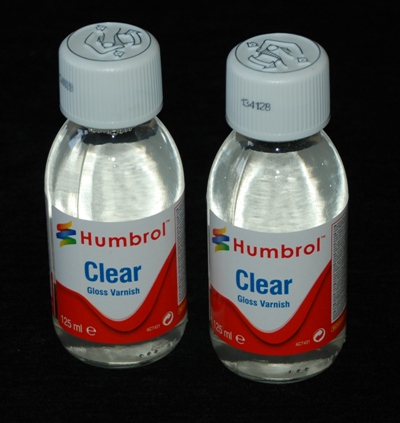 Our thanks to Humbrol for providing our review sample. Get this varnish here now at www.humbrol.com

What do we think?
Well, I have to be honest and say that I was very pleased when these bottles arrived – I mean, you can never have enough gloss varnish, can you? Especially when it comes in decent sized bottles like this one (125ml).
Particularly useful is the fact that you can apply this thin clear varnish using a brush or airbrush – there's no need for thinning, you can apply it neat as it is – it's thin enough. Better still, the brush – whatever sort you use, can be easily cleaned using just water – I tried it and it works!
You can increase the amount of shine and glossiness by applying extra thin coats and I found it good to allow about 30 mins between applications.
The varnish did dry pretty well, being able to be handled well after a couple of hours – you can handle a bit sooner, but I don't know about you I like to take my time and be sure the surface has dried to avoid getting unsightly finger marks all over the model!
Video demo…
Humbrol has created a short video demo and you can see this from their website by clicking here. we'll probably create our own soon so keep an eye out in your What's New pages of SMN for that.
Recommended
Geoff C.