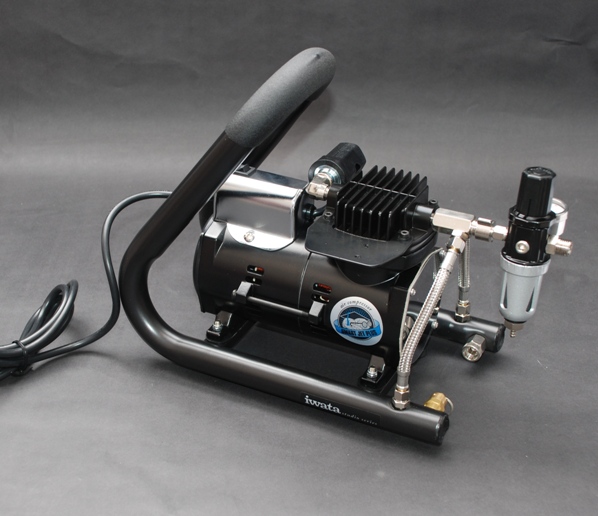 Product Code – C-IW-smart-ht
Cost – £250 (inc VAT)
Reviewed by Les Venus


Our thanks to The Airbrush Company Ltd for supplying the review sample, get this rather nice compressor here now at: www.airbrushes.com
Overview
I have been using my Iwata Sprint Jet for about four years now and it's been faultless in every respect being easy to use and very quiet. It has given me all I have ever asked of it and I am a huge fan.
Imagine how delighted I was when Geoff called me and asked me to review the latest iteration of the Studio series that he was kindly offered by Lisa at The Airbrush Company. Well just look at it… it's a piece of modern art and to be honest that's not the best bit!
But more of that anon.
Features/Specification
Low maintenance, oil-less single piston compressor
Quiet Running 1/6 HP induction Motor
450cc air tank inside the handle………amazing innovation and looks good too!
Air-flow at 0psi: 0.81 CFM (23(IPM)
Working pressure from 0psi to 60psi
Smart technology automatic switching reduces running time and motor wear
Moisture filter
Pressure gauge
Air regulator for precise air pressure adjustment
3m braided air hose
One 1/4 BSP outlet
Built in airbrush holder
On/off switch
Size 28x 16 x 29cm
Weight 5.5kg
220-240v 50 Hz
Noise level 54 Decibels