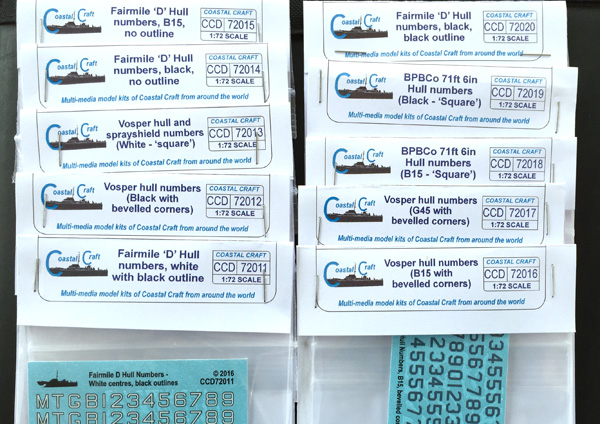 Sets CCD 72011 – 72020
See website for current prices (likely to be around £3.50 GBP per set)
Review by Geoff Coughlin (June 2016)
Our thanks to Coastal Craft Models for supplying these useful decal sets – get them and many other kits and accessories at Coastal Craft Models
Here we have a number of decal sets that cover various styles of hull numbers applied to many Fairmile D and Vosper MTBs, MGBs, BPBCo and variants of the same or similar boats – all in 1:72 scale.
The sets compliment Coastal Craft's own kits very well and allow you to extend the range of subjects you could build from their kits.
The decals look to be decent quality and are printed with a continuous varnish layer and are, as usual, best applied to a gloss surface layer. The individual numbers can be carefully cut with a scalpel as required. All markings are in register and well printed.
Geoff
Here is what we have so far:
CCD 72011 Fairmile D hull numbers, white with black outline
CCD 72012 Vosper hull numbers, black with bevelled corners
CCD 72013 Vosper hull and spray shield numbers, white – 'square'
CCD 72014 Fairmile D hull numbers, black – no outline
CCD 72015 Fairmile D hull numbers, B15, no outline
CCD 72016 Vosper hull numbers, B15 with bevelled corners
CCD 72017 Vosper hull numbers, G45 with bevelled corners
CCD 72018 BPBCo 71ft 6in hull numbers, B15 – 'square'
CCD 72019 BPBCo 71ft 6in hull numbers, black – 'square'
CCD 72020 Faimile D hull numbers, black, black outline