Reference number: 7000
Review by: Bill Curtis (December 2011)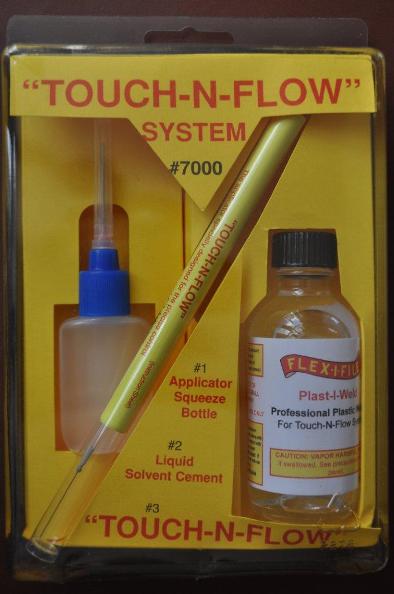 Our thanks to Albion Alloys for supplying our review sample.
Initial Assessment
This set consists of three items: a bottle of liquid adhesive, a squeeze bottle and an applicator.
The applicator is a glass tube with a blunt hollow needle to apply the adhesive, which allows joint lines to be joined in one application without replenishing like a brush. It will apply a spot with pin-point accuracy or reach into those hard to get at places.
Instructions
To use, one fills the squeeze bottle no more than half full then, holding the applicator with the needle end down, turn the squeeze bottle upside down and insert into the glass tube. Squeeze the bottle to fill the applicator no more than half full.
To empty, tip it over the squeeze bottle on the bottom. Squeeze the bottle, then put it into the glass tube on the applicator and release. The applicator will empty completely.
To use, just touch where it is needed and it will flow until you take it away from the surfac,e thus giving you control while keeping the adhesive safe from being knocked over and spilt.
Conclusion
This is a great idea and works well, which also should stop the accidental spillage of knocked over bottles of liquid glue. The control offered is very good, especially over a long joint so could be of great use to aircraft, ship and armour modellers alike.
| FEATURE | STAR RATING (out of five) |
| --- | --- |
| Quality of moulding | **** |
| Accuracy | N/A |
| Instructions | **** |
| Decals | N/A |
| Subject choice | **** |
| Overall | **** |
Recommended.