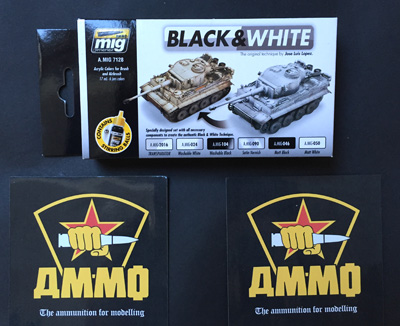 Price around €13.95
Acrylic colours set. 6 jars 17mLl + Special Black&White technique leaflet

Our thanks to AMMO of Mig Jimenez for sending through our review samples – find out all the details of the full range and prices etc on their excellent AMMO of Mig Jimenez website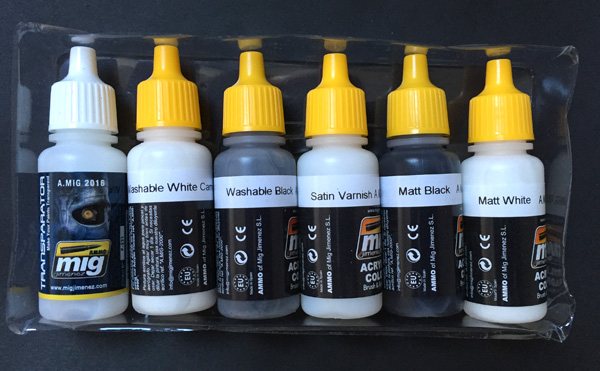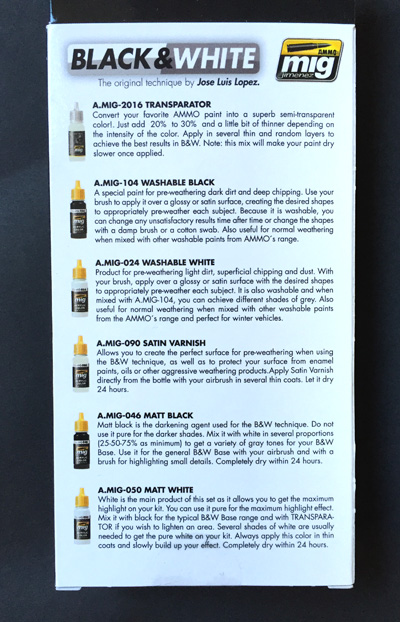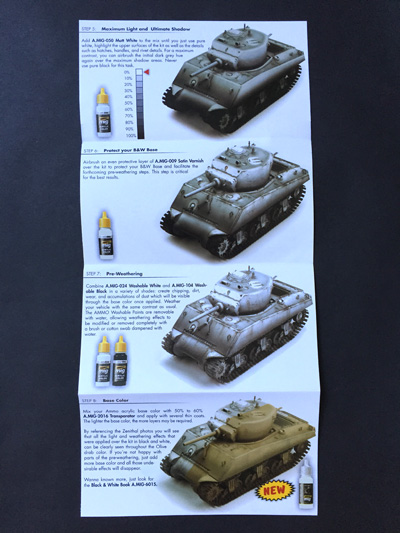 A bit about the approach
It seems almost impossible to keep up with the pace at which AMMO of Mig Jimenez is releasing their sets and other products. We've already begun to use some of these in our modelling projects as well as some of the advanced projects for our new on-line only Mag www.outofthisworldnow.com due to go 'live' in the first half of 2016 – check it out if you are even remotely interested in Sc-Fi, movies, Forgeworld, Fantasy and all that!
When i first saw this set and then a pen-picture of a new book about the approach on Mig's AMMO website it certainly caught my interest – what on earth is this all about?
Jose Luis Lopez has created his own style aptly named the Black & White technique and the results have begun to be used by many modellers. His book explains the entire process with numerous step by step examples as well as insightful theoretical reflection. The technique allows you to layer the effects of wear, chipping, and dirt in a simpler manner than usual by using a Black and White foundation for our base colours.
Once our translucent base colours are applied, each subject automatically acquires three-dimensional volume and layered weathering effects. Jose Luis Lopez has certainly developed an innovative and versatile approach.
What's included in this set
Acrylic water based paint set for creating the 'Black & White' technique created by Jose Lopez. This set is designed to create this Black & White technique, creating realistic highlights and shadows as well as dramatic lighting effects.
Included is a leaflet which will teach us how to do this technique with the products included:
• the brand new A.MIG-2016 Transparator, necessary for semi-transparent base colours
• both A.MIG-0046 Matt Black & A.MIG-0050 Matt White for grey tones ranging from charcoal grey for shadows through to light grey for highlights
• A.MIG-0024 Washable White & A.MIG-0104 Washable Black for weathering dust, spills, chipping, and streaking
• and A.MIG-0090 acrylic Satin Varnish necessary for protecting our effects.
Each acrylic colour features AMMO steel mixing balls, shake well before use. Acrylic colours can be used with brush or airbrush. AMMO recommends MIG -2000 Acrylic Thinner for a correct thinning if necessary.
The quality and consistency of the paint looks to be very good.
It could be a good idea to get hold of a copy of the book (€19.00) that is available from AMMO of Mig Jimenez
Geoff C.