Product reference: A07280
Price around: £21.99 GBP
Review by Geoff Coughlin (May 2013)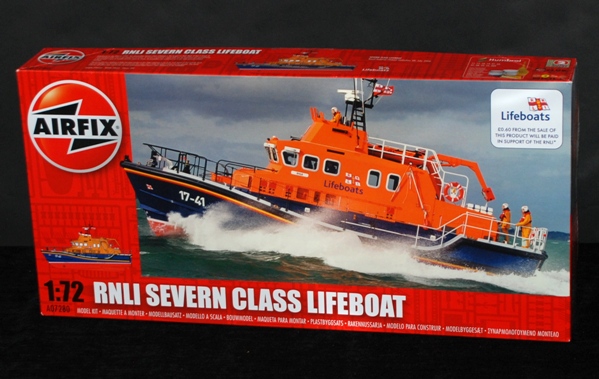 Our thanks to Airfix for supplying our review sample. Get this great kit here now at: www.airfix.com
History
Introduced to the RNLI in 1995, the all-weather Severn Class Lifeboat is the largest in their fleet. It has a range of 250 nautical miles and a top speed of 25 knots. It carries a powered Y boat that can be launched and recovered by a lightweight crane to enable rescues close to shore. It propellers are protected so it can take ground without damage.
The kit in this box enables a fully detailed model of this RNLI Lifeboat to be built. With full detailed deck, hull and fittings included, also by removing the cabin roof a fully detailed interior can be viewed. The decal scheme will allow any one of the current operational RNLI Severn Class Lifeboats to be modelled.
Reference…
We have a great walkaround set of reference photos in your Photo Reference Library and you can view them here.
The Kit
Many of us from the UK will have seen one or more of these fine lifeboats either in harbour as I did recently up in Hull or perhaps passing you at sea – I just hope that you haven't had need to be rescued by one?
This is a very welcome re-release by Airfix – their Severn Class lifeboat. The model stands up well by any current standard featuring plenty of detail to help you create an authentic replica of the original vessel. Moulded detail is pretty crisp and little flash is evident on the sprues and when you look at the walkaround photos we have in your Photo Reference Library it's clear that Airfix has done a pretty thorough job recreating much of the deck and hull kit – fixtures and fitting that in-service craft feature.
Clearly a number of very fine, small details are absent but you can decide if you want to add them or not – it is, as ever up to the builder.
Instructions
The instruction booklet offers more than usual with colour reference photos included and that's a great help – you really don't have any excuse not to add plenty of additional kit if you want to!
The build sequence seems pretty standard and you'll probably have your own method of how to go about painting and construction.
Decals
The decals included in this kit don't look too thick, and should settle with a decal solution, they cover all vessels currently in service with the RNLI in the UK, so you can pick your own particular favourite.
Conclusion
A great addition to Airfix's range of maritime models that will build into a nice Severn Class Lifeboat of your choosing; a great subject that is well detailed and moulded that will build into a good model out of the box. If, however you want to go further do check out suppliers like White Ensign Models who stock a lot of maritime modelling kits and accessories.
Recommended
Geoff C.
SMN Quick Summary Star Rating out of 5
| FEATURE | STAR RATING (out of five) |
| --- | --- |
| Quality of moulding | **** |
| Accuracy | **** |
| Instructions | **** |
| Decals | **** |
| Subject choice | ***** |
| Overall | **** |