Page 1 |  2 
Price: £137.00 (UK Feb 11) Review by: Les Venus
Background
I was at this year's ModelKraft 2011 at Milton Keynes and as you may have read elsewhere in SMN, I had intended on buying nothing. The trouble was, I saw this kit on the shelf of a well-known shop stand and, well just look at that box art, I couldn't resist. So, once again to Mrs V's increasing annoyance, I bought it.  It seems at first sight a lot of money but let's take a look and then decide. Before that, you'll recall that Yamato was 70,000 tons the Mogami is just 12,000 tons so you can see already there's a huge amount going on here for a relatively small ship. I'll do my research prior to the build but this one is the aircraft carrying version of a Mogami Cruiser and as such makes it an incredibly interesting model subject.
Packaging
The box art is sublime, evocative and screams 'BUY ME!', at least to me. I think Tamiya has the best box art there is and this is one of its best! The box itself is the same size as that for Yamato and there's a lot to see on the top and the sides to add to your buying decision. The best bit is that it shows the options of building full hull or water line (mine will be the former).
Opening the box shows the instructions and painting guide placed on top of a flat in fill piece. Very efficient and shows a real quality unique to Tamiya.  
Instructions
The Instructions are superb and if studied and followed are flawless, at least if the Yamato was anything to go by. The ship is multi-layered and complex but should build well if care is taken. I'll be adding a raft of WEM brass and resin to what will be a huge in-depth build so I will be adding a lot of extra work to my model and a different level of complexity. You'll see from the instructions the need for screws and both these and the tools are included in this comprehensive package.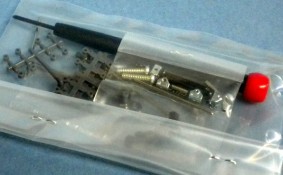 The Kit

You can see the size of this ship alongside my KGV. It's almost as long but half the width so it's not an essentially big ship. Gallery Grid, Decals and the all-important Conclusion…