Review by: Geoff Coughlin (December 2011)
Our thanks to Revell for supplying our review samples.
Initial Assessment
We've previously reviewed the Airfix 'Sink the Bismarck' in this scale and now we have another famous ship from Revell – the U.S.S. Yorktown (CV-5).
The three ships of the Yorktown Class were the most famous American aircraft carriers in the Second World War. The U.S.S. Yorktown, also called the "Fighting Lady", went into service on 30 September 1937 and operated in the Atlantic. After the attack on Pearl Harbor, the U.S.S. Yorktown moved to the pacific at the end of 1941.
She had a decisive effect on the Battle of Midway until she was severely damaged by Japanese bombers and two days later, on 6 June 1942, she was torpedoed by a submarine. A day later the U.S.S. Yorktown sank.
The Revell kit
Click on the thumbnails to enlarge images.
This is another in Revell's waterline series and the package contains main hull, mid (internal) deck and upper deck. In addition, there are many aircraft supplied like the B-25 Mitchell and what look like Dauntless dive bombers.
The deck superstructure, tower and crane details are necessarily simple and straightforward with slightly soft moulding but it works fine in 1:1200 scale. With a little work, you can refine parts even more to make some items like the aircraft flash free and presentable.
Instructions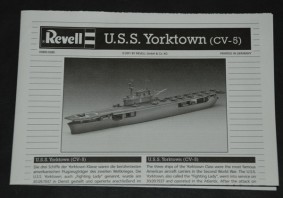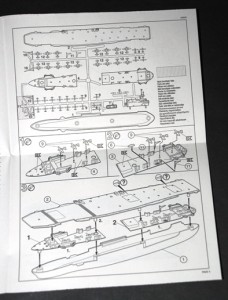 This comprises a fold-out sheet with exploded diagrams showing where the small number of parts go – clear enough. The model is hardly complex so a build will present few, if any problems to modellers at any level.
Decals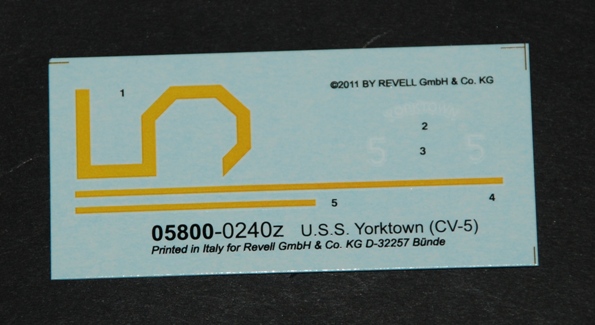 Revell include a small decal sheet with appropriate deck markings that look good enough to use – just remember to apply them onto a high gloss finish and then matt down as appropriate to reduce any chance of decal silvering.
In conclusion…
Yes, pretty good really for the money and size of model. Lots of people buy and make models in this scale and you will have another aircraft carrier to add to your fleet collection!
| FEATURE | STAR RATING (out of five) |
| --- | --- |
| Quality of moulding | *** |
| Accuracy | *** |
| Instructions | *** |
| Decals | **** |
| Subject choice | **** |
| Overall | *** |
Geoff C.