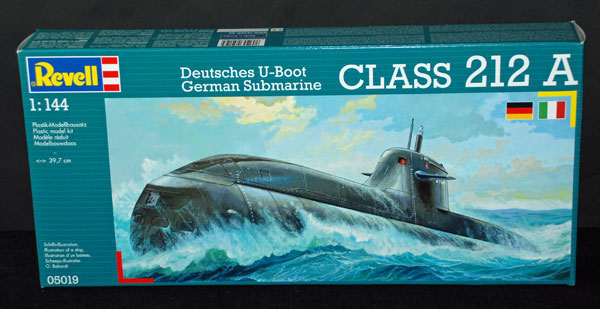 Price around £12.99 GBP (June 2014)
Materials: Injection moulded plastic
Kit reference: 05019
Review by Geoff Coughlin
Our thanks to Revell for supplying our review sample. Revell model kits are available from all good toy and model retailers. For details visit www.revell.de/en, @RevellGermany or facebook.com/Revell
Intro…
You may well have seen other reviews we have completed in your SMN of kits of German U-Boat and submarines in various scales. Revell are making a bit of a habit of releasing, re-releasing or acquiring German U-Boat (submarine) models and this Class 212 A in 1.144 scale measures nearly 40cm long. If you check out the Revell link in the right panel in this Maritime Here Now area you'll find the other reviews we have done for the many maritime subjects from Revell.
Here's a little bit about the type
The German Type 212 class, also Italian Todaro class, is a highly advanced design of non-nuclear submarine developed by Howaldtswerke-Deutsche Werft AG (HDW) for the German and Italian Navy. It features diesel propulsion and an additional air-independent propulsion (AIP) system using Siemens polymer electrolyte membrane (PEM) hydrogen fuel cells. The submarine can operate at high speed on diesel power or switch to the AIP system for silent slow cruising, staying submerged for up to three weeks without surfacing and with no exhaust heat. The system is also said to be vibration-free, extremely quiet and virtually undetectable.
Type 212 is the first of the only two fuel cell propulsion system equipped submarines ready for series production by 2007, the other being the Project 677 Lada Class submarine designed by Russian Rubin Design Bureau.
At the beginning of the 1990s the German Navy was seeking a replacement for the Type 206 submarines. Initial study started on a Type 209 improved design, with AIP capability, called Type 212.
The final programme started in 1994 as the two navies of Germany and Italy began working together to design a new conventional submarine, respectively to operate in the shallow and confined waters of the Baltic Sea and in the deeper waters of the Mediterranean Sea. The two different requirements were mixed into a common one and, because of significant updates to the design, the designation has been changed to Type 212A since then.
In 1996 a Memorandum of Understanding (MOU) gave the start to the cooperation. Its main aim was the construction of identical boats and the start of a collaboration in logistic and life-cycle support for the two navies.
The German government placed an initial order of four Type 212A submarines in 1998. The German Submarine Consortium built them at the shipyards of HDW and Thyssen Nordseewerke GmbH (TNSW) of Emden. Different sections of the submarines were constructed at both sites at the same time and then half of them were shipped to the respective other yard so that both HDW and Thyssen Nordseewerke assembled two complete submarines each.
In the same year the Italian government placed an order of two U212A submarines built by Fincantieri for the Marina Militare (Italian Navy) at Muggiano shipyard, designated as the Todaro Class.
The German Navy ordered two additional, improved submarines in 2006, to be delivered from 2012 on. They will be 1.2 meters longer to give additional space for a new reconnaissance mast.
On 21 April 2008 the Italian Navy ordered a second batch of submarine in the same configuration of the original ones. Some upgrading should involve materials and components of commercial derivation, as well as the software package of the CMS. The intention is to keep the same configuration of the first series and reduce maintenance costs.
The export-oriented Type 214 submarine succeeds the Type 209 submarine and shares certain features with the Type 212 A, such as the AIP fuel cell propulsion.
In April 2006, U-32 sailed from the Baltic to Rota, Spain in a journey lasting two weeks, covering 1,500nm without surfacing or snorkelling. Seven years later, while on the way to participate in naval exercises in the USA, U-32 established a new record for non-nuclear submarines with 18 days in submerged transit without snorkelling.
Poland announced in December 2013 they will not buy, but only lease, two U212-A's, on account of not meeting "requirements of tactical and technical equipment developed by the military, including in particular the propulsion system, missile weapons and rescue system.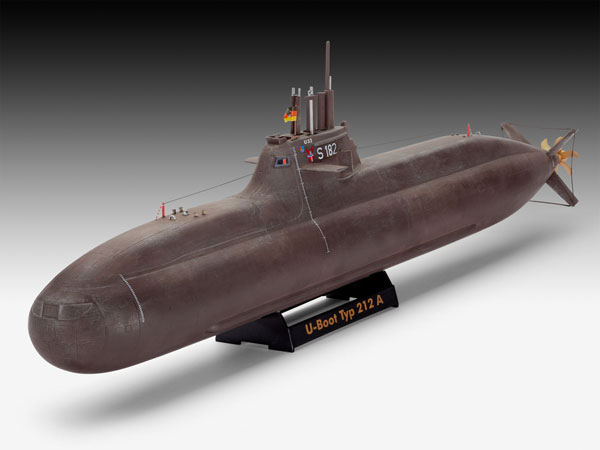 So what's in the kit?
Here's a quick run down:
The submarine can be built as a dived or a surfaced version
Detailed hull with recessed panel lines
Transparent part for the fin area
Detailed propeller
4 separate rudders aft
2 movable diving planes on fin
Rear stabilizers reproduced in wire
Display stands with decals for different markings
Equipment on top of fin optionally up (periscope, antenna mast, exhaust mast etc.)
Separate front hatch/side door
Bitt and mast on gangway
Decals with draught markings for 4 German and Italian navy versions.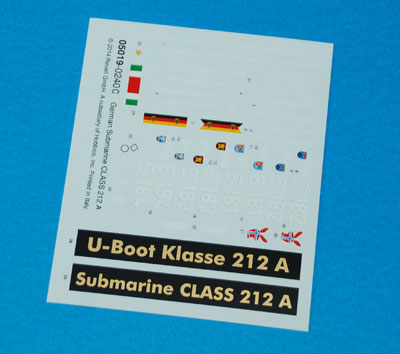 Interestingly this kit is a re-release of their 2005 model now with new Revell decals.
The kit is well engineered with no excess flash and very clean moulding like many Revell kits and so it's nice to see this one surfacing again (☺). The model's small size of around 39.7cm length means that you can build a sizeable model.
There's not too much to say about this kit other than it is a good replica of the original from looking at my limited references. Sure you can always add a few nice fine touches, but the original externally was a simple vessel and should present no difficulty to modellers of all types.
It's also nice to see another relatively modern submarine type available again and a number of different submarine types are readily available. Check out too the photos of the manufacturer's completed model in the Gallery Grid with this review.
Geoff C.
SMN Quick summary Star rating out of 5
| FEATURE | STAR RATING (out of five) |
| --- | --- |
| Quality of moulding | **** |
| Accuracy | **** |
| Level of details | *** |
| Instructions | *** |
| Decals | **** |
| Subject choice | **** |
| Overall | **** |