Review by Graham Thompson (May 2012)
Kit reference: 05110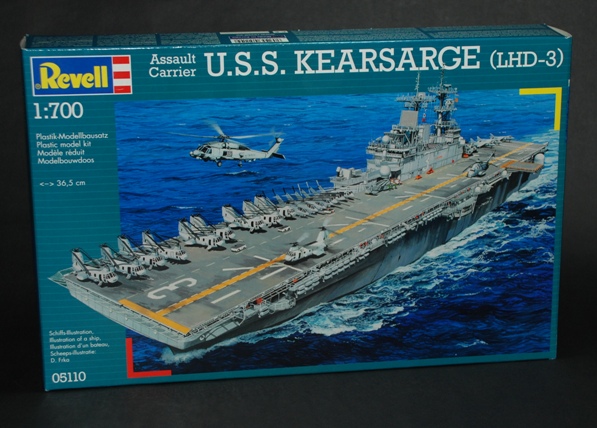 Our thanks to Revell for supplying our review sample. Revell model kits are available from all good toy and model retailers. For further information visit www.revell.eu or email: ukbranch@revell.de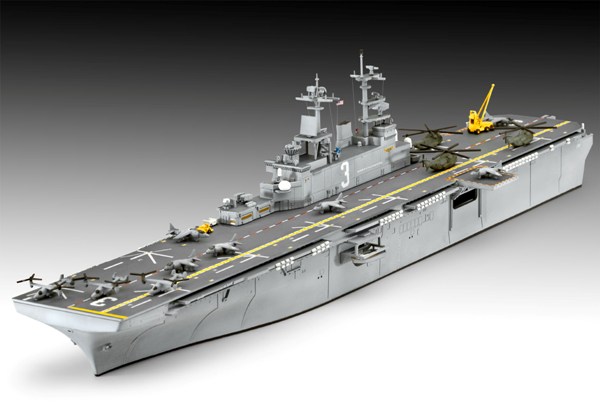 Reference…
Thanks to Stephen Cheng for the additional information below:
LHDs typically deploy as the centerpiece of an amphibious ready group transporting a battalion-size combined arms Marine unit called a MEU(SOC). The aviation combat element is a reinforced composite medium helicopter squadron, all based on the LHD. This unit had, in the 2010 timeframe, 12 CH-46, 4 CH-53, 4 AH-1, and 3 UH-1. These numbers have changed over the years (and continue to; the V-22 replaces the CH-46 1:1 but is much bigger and some suggest deploying fewer)."
Initial assessment…
USS Kearsarge is boxed in the typical Revell end opening box with a dramatic illustration of this amazingly versatile class of ship. However, I have reviewed and built quite a few Revell kits over the last few months and I am beginning not to notice the issue of the non-tray box now. Revell are issuing some really great kits for modellers of all abilities and pockets, it is the plastic that matters the most and Revell are issuing some great plastic so enough of the box.
USS Kearsarge is the third LHD (Landing Helicopter Dock) Assault ship in the Wasp class and as such is quite a purpose built vessel to do a specific job. On looking at the waterline only hull and deck, Revell have certainly captured that workmanlike modern workhorse of a warship. There does not appear to be a massive part count compared to the WWII ships that I have built to date but that is how these ships are, boxy yet visually attractive ships. Detail on the surfaces of the hull sides is very sharp and nicely done within scale effect. I am not a stickler for if a line is the right scale in millimeters, I just want it to visually look right on the finished model. This looks as though the detail will pop out fine. On looking at the aircraft parts, Kearsarge comes with eight Harriers, three VTOL Osprey aircraft and three CH-53 helicopters. This has two issues. One is the sink holes in a few of these aircraft which can easily be sorted out. The other is that are these valid load out for the Kearsarge?
Accuracy…
I assume that this kit which has the year 2000 date on the sprues is actually a re-packaged and decaled USS Wasp as the instructions are dated 2012 and refer to Kearsarge's deployment in 2011. Now, it is well documented that the Wasp never carried Ospreys operationally but just about every kit issued has them included. A quick look on Wikipedia shows that the Wasp does include Ospreys, which it allegedly didn't as does the Kearsarge but the Kearsarge does not show any reference to having CH-53 helicopters so, unless you intend sourcing replacement and hopefully correct aircraft, a bit of artistic license has to be accepted. On the other side of the coin, a ship like the Kearsarge has a role carrying a very large contingent of US Marines. Now this is not my area but would different Marine unites have different equipment? I don't know but if you are keen on total accuracy, do your research.
Quality
Apart from the already mentioned sink marks on the aircraft, the rest of the kit shows little to no flash and good sharp detail. I have been impressed with many Revell kits of late and this one is no exception. Remember that this is a decent sized, reasonably accurate in shape and size, kit which can be had for £15 or so. Unlike the larger 1:350 scale, you do not get the landing craft and the hovercraft or the vehicles that came in them. You do get eight Zodiac type boats though which are OK but not as dramatic as having Hovercraft pouring out the flooded stern dock. You also get deck vehicles that look a little toy like but then again, they do, maybe need a bit of work to make them more scale like. The one piece flight deck has fine raised lines depicting where the markings go. These markings are supplied on fairly large decals so I am not sure if these raised lines will be a help or a hindrance in trying to get such large decals lined up and settled down. You could gently sand them off though as they are the only detail on the deck. The deck has another issue though which would be quite tricky to get around. Modern carrier decks are covered in 'Padeyes', circular sunken tie down points. Now these are quite a feature of any model carrier deck be them either moulded into the deck or as decal sheets. The Kearsarge deck has none of these and some would argue that they should be there. I am not sure how prominent these would be at 1:700 scale but I bet that the kit will come under criticism for leaving them off. Instructions… The instructions are the usual A4 folded booklet style that Revel favour and I have no trouble with. They cover the construction of the kit in 30 stages with another three stages covering painting, as usual showing the codes for Revell's own Aqua colour paints of which I am quite a fan. The exploded diagrams are clear and concise and should be easy enough to follow. The last stage is a rather odd 'Diorama Suggestion' showing the Zodiac boats streaming from the rear of the ship. Hmmm, really not sure about that unless you have some 1:700 Marines figures.
Decals
The decals look very nice indeed. They are well in register and consist of large areas of deck markings. Not sure how this will settle down but I see possible issues re silvering. I will report how I get on with these in the actual build review as there is far more carrier than actual decal. The oddest thing is that there are decals in grey for covering the harriers from the canopy backwards including the wings. Fine if you can colour match the rest of the aircraft. As these include the national markings and 'Marines', there is no alternative. Again, I am not sure if these will be a help or a hindrance.
Conclusions…
As is inevitable with a kit of this scale and price, some of the finer detail on such as walkways and radar/mast detail will either be over scale or left off. To beef it up, a set of Photo Etch detail enhancement is available for the Wasp, and therefore I would think, the Kearsarge, from Gold Medal Models (available from White Ensign Models) In fact prior to sitting down to write this review, I read an email from White Ensign Models confirming the set I ordered for this build had been dispatched. I would just about always use Photo etch if it is available on a maritime model, especial at this scale. It does actually cost more than the kit to do this though and you do not have to use Photo Etch if you don't want to, you will still get a good and interesting model in your collection.
Although I prefer waterline models, I was surprised to see that this kit is waterline only. You can display waterline on a nice piece of polished wood or even slate and it will look good but I like to see ships in the 'water', again, don't be put off if you feel that making a sea base is a step too far.
The USS Kearsarge is an interesting subject. It is a formidable warship capable of unleashing onto the enemies shores a formidable force. However, with its contingent of nearly 2000 US Marines extensively equipped with surface and aircraft backed up with huge medical facilities including a 600 bed hospital, this vessel has a huge role in the modern world in a humanitarian role which has already been put to good use in disaster areas. It will be a pleasure to build a ship that a foreign nation would only be too happy to see stood off its shores to assist them rather than invade them.
DEFINITELY RECOMMENDED
SMN Quick summary Star rating out of 5
| FEATURE | STAR RATING (out of five) |
| --- | --- |
| Quality of moulding | **** |
| Accuracy | ***(ship looks fine just not sure about load out or deck detail) |
| Instructions | **** |
| Decals | **** |
| Subject choice | **** |
| Overall | **** |
Graham T.