Materials: Resin, White metal and Etch brass
Review by: Les Venus
Our thanks to Martin at Coastal Craft Models (contact details at foot of the article) for supplying our review sample.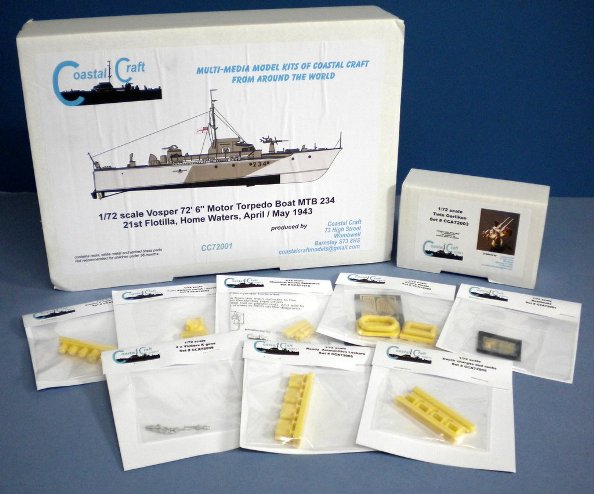 Reference Sources
British Motor Torpedo Boats 1939-1945 (Osprey)
Vosper MTBs in Action by Garth Connelly (Squadron Signal)
Background
Before reading this Here Now review, you might want to grab a look at my build of the Italeri 1:35th S-100 Schnellboot. This was the model that started my obsession with model ship building and it still has an affectionate place in my heart, albeit that it's now in a landfill somewhere. My love for fast attack boats was kindled here so what comes next won't be a surprise.
During time off for good behaviour from the SMN Stand, I was wandering around at this year's IPMS Scale Model World when my attention was grabbed by the Coastal Craft Vosper MTB on the Coastal Craft Models/Whirlybird stand.
I seem to recall that Airfix did this a long while back in this scale; for sure I built their Air Sea Rescue launch which has similar lines. This is in a whole different league, though, as you'll see shortly.
I have always been a fan of MTB's, ever since watching 'They Were Expendable' and 'PT109'. OK, these were USN Elco boats but the idea is the same; fast highly manoeuvrable attack boats able to hit a target fast and run away.
They also look fantastic and my first impressions of this kit when I saw it was that someone loves the boat more even than I.
You can imagine my delight when, having been chained by Geoff back to the SMN stand, Martin from Coastal Craft Models popped by carrying a wonderfully bulky couple of white boxes and asked if I would build and review the MTB for SMN. I didn't need asking twice and was soon squirreled away in a corner peeking in the box – well, you'd have done the same – and, wow, I was not disappointed. Here's why.
First Impressions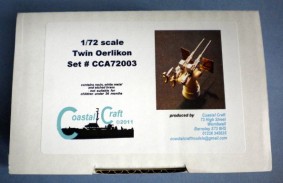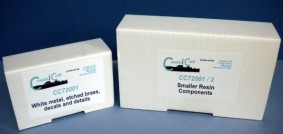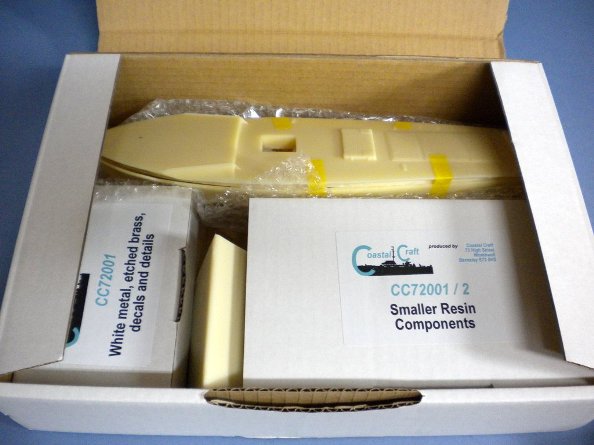 Imagine my surprise when I opened the box. Martin had not only given me the standard Vosper MTB kit but just about every available extra for it as well.
The main box is about 310mm x 250mm x 75mm and is white coated corrugated card, with a basic but attractive A4 printed sheet pasted to the box. It has a fabulous solid feel to it and feels homemade but qualitative too; a super combination.
Inside the box I was confronted by the extras first, which included 8 small plastic envelopes. I hope Coastal Craft will forgive me for not taking them out of their packs for this Here Now Review, as they are small and in some cases delicate, so I felt leaving as they are would be better. I will be building this model soon and will of course show each pack in all its glory and how it impacts on the model.
The 8 Packs include:
A set of Brass Etch Boat Hooks
Resin Depth Charges and associated Racks
Resin Ready Ammunition Lockers
Resin and Brass Etch Carley Floats
White Metal Vickers 'K' Guns (X4)
Resin Chemical Smoke Apparatus
Resin Twin Vickers Gun Turret
Resin Smoke Floats
In every case the quality of the resin and etch looks stunning (see images below) and I am itching to get at it.
In a separate box, there is a Twin Orlikon mount in Resin, etch brass and white metal. Again, it's stunning and will look incredible on the boat.
As for the remainder of the contents, you can see the resin hull and deck and two other small cardboard boxes. This is a superbly packaged and high quality product. Before I get into detail about the kit, it's worth looking at the instructions.
Instructions
The instructions are home printed in A4 on quality paper and bound with a plastic cover front and back. They are robust and thorough and a reference in their own right.
It kicks off in such an evocative manner, giving a short account of the MTB offered in the kit skippered by Lt Cdr Peter Dickens in 1943, before moving on nicely to cover specific colour schemes and a brief history of British Coastal Forces during WW2. Great stuff.
The instructions are littered with a mix of colour drawings and very helpful text, which looks very helpful and an enjoyable way of building. I envisage no problems with them at all and I am, at this time, deeply impressed by them.
At the back are details of all the accessories, including crew figures available for this kit and order forms, so no stone has been left unturned at giving the modeller all that is needed. Nice one.
Click on the images below to enlarge and see what you think for yourself.