Review by: Geoff Coughlin (January 2012)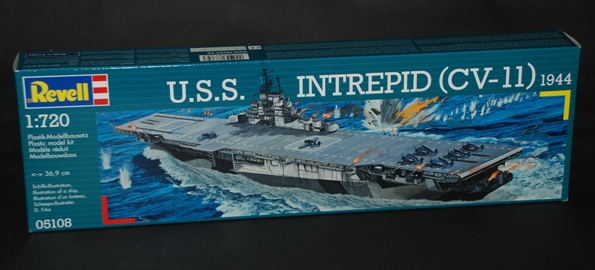 Our thanks to Revell for supplying our review sample.
Initial Assessment
There are several reviews of Revell maritime kits in your Here Now area and the pace of releases (or re-releases) shows no sign of abating – good news for all! 1:700 is quite popular in maritime modelling circles, I guess because it enables you to build up quite a collection, easily and cheaply.
The Kit
This isn't a new kit but a welcome addition to the Revell range.
A full hull option is included but the hull is split so that you can display your model as a waterline project. Main deck is quite well moulded and should be able to be painted well.
In addition, there are many aircraft supplied like the Curtiss Helldiver and Grumman Hellcat. They are certainly recognisable types and, with careful painting, should look ok.
The deck superstructure, tower and crane details are necessarily simple and straightforward, with slightly soft moulding but it's what you'd expect in 1:700 scale.
With a little work, you can refine parts even more to make some items like the ship's fittings more authentic. There's likely to be etched brass available, so I would recommend a visit to the White Ensign Models website when you get a moment.
Click on the Thumbnails to enlarge the images below and explore the contents for yourself!
Instructions
These comprise of a fold-out sheet with exploded diagrams showing where the small number of parts go – clear enough. The model is hardly complex so a build will present few, if any problems to modellers at any level.
Decals
Revell include a small decal sheet with appropriate deck markings and they look good enough to use – just remember to apply them onto a high gloss finish and then matt down as appropriate to reduce any chance of decal silvering.
Signal flags are supplied on coloured paper for use as you choose.
What you'd be building…
A few preview shots from Revell of what you could build if you take-on this kit…
In Conclusion…
Not bad at all really for the money and size of model.
Lots of people buy and make models in this scale and, were you to build this kit, you'd have a fleet to add to your collection that's a sight easier to store and display than Les's 1:200 USS Arizona!
| FEATURE | STAR RATING (out of five) |
| --- | --- |
| Quality of moulding | *** |
| Accuracy | *** |
| Instructions | *** |
| Decals | **** |
| Subject choice | **** |
| Overall | *** |
Geoff C.