Kit Ref: 05500
Price around £22.99 GBP
Review by Geoff Coughlin (April 2014)
Revell model kits are available from all good toy and model retailers. For details visit www.revell.de/en, @RevellGermany or facebook.com/Revell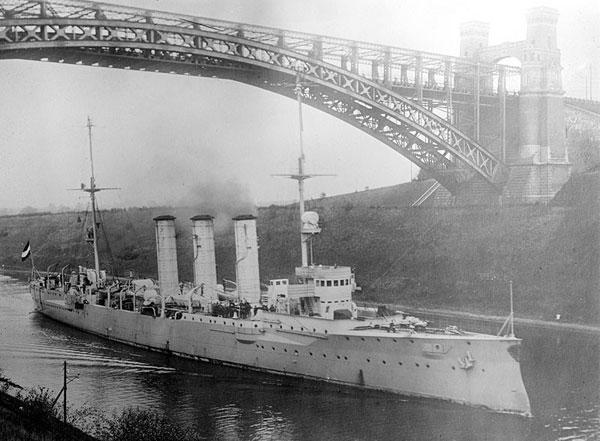 A little bit of background
SMS Dresden ("His Majesty's Ship Dresden") was the lead ship of her class, built for the Imperial German Navy (Kaiserliche Marine). She was laid down at the Blohm & Voss shipyard in Hamburg in 1906, was launched in October 1907, and completed in November 1908. She had one sister ship, Emden. Like the preceding Königsberg-class cruisers, Dresden was armed with ten 10.5 cm (4.1 in) guns and two torpedo tubes.
Dresden spent most of her career overseas. After her commissioning, she visited the United States in 1909 during the Hudson-Fulton Celebration. In late 1913, she was stationed off the Mexican coast to protect German nationals during the Mexican Revolution; at the end of the conflict the following year, she carried the former dictator Victoriano Huerta to Jamaica, where the British had granted him asylum. She was due to return to Germany in July 1914, but the outbreak of World War I prevented this from occurring. At the onset of hostilities, Dresden operated as a commerce raider in South American waters in the Atlantic, before moving to the Pacific Ocean in September and thereafter joining Maximilian von Spee's East Asia Squadron.
Dresden saw action in the Battle of Coronel in November, where she engaged the British cruiser HMS Glasgow, and at the Battle of the Falkland Islands in December, where she was the only German warship to escape destruction. She eluded her British pursuers for several more months, until she put into Robinson Crusoe Island in March 1915. Her engines were worn out and she had almost no coal left for her boilers; the ship's captain contacted the local Chilean authorities to have Dresden interned. There, she was trapped by British cruisers, including her old opponent Glasgow; the British violated Chilean neutrality and opened fire on the ship in the Battle of Más a Tierra. The Germans scuttled Dresden and the majority of the crew escaped to be interned in Chile for the duration of the war. The wreck remains in the harbour, but several artefacts, including her bell and compass, have been returned to Germany.