HN Maritime DJ Parkins – Great Little Ships Coastal Forces Series detail sets – 1/72
Review by: Mick Stephen
Thanks to David J Parkins for supplying our review samples.
Background
This all began when our esteemed Maritime Editor Les Venus got his sticky paws on a review sample of the new Coastal Craft resin kit of the Vosper MTB.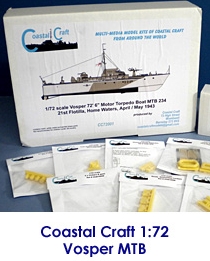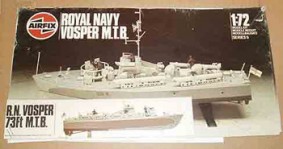 Being a closet maritime modeler, it was time to return to the dark side and renew my acquaintance with things that float rather than fly.
In very short order, we agreed to do a comparative build in SMN using the venerable old Airfix kit (above) alongside the Coastal Craft (CC) offering. This was to be no 'build off' competition, just an unbiased view of the two kits, side by side in terms of value and accuracy.
As you can imagine, the CC kit had the upper hand in accuracy with modern moulding techniques, but the Airfix was way ahead on value; so it's time to even the odds a bit (to be fair) and add some details to the out of the box Airfix version. I've been using GLS and Flightpath sets for some time now, so they became my first thought in how to detail up the Airfix kit.
Enter DJ Parkins and a selection from the Flower Class Corvette & Coastal Forces Series range from Great Little Ships.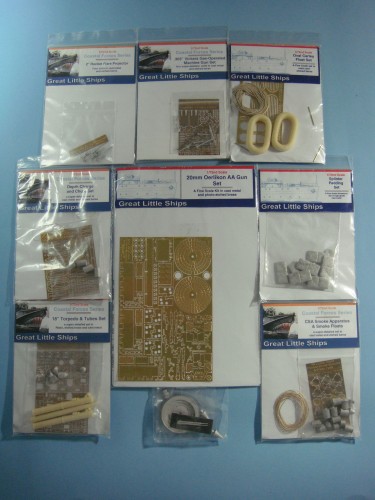 The Sets
Some general comment first, so that we're not repeating the same thing all through this review.
All these sets are 'stand-alone' replacements for kit parts and are not intended to make use of any kit pieces. All sets come packaged in zip lock bags with card backing. Some instruction narrative appears on the back of this card on the smaller sets, otherwise the main instructions are printed on A4 in colour, with separate exploded view diagrams. The differing materials are color coded.
Parts list
18" Torpedo & Tube set (pr)     £9.30
Single depth charge & chute set    £6.00
.303 Vickers gas operated machine gun set   £5.20
2" Rocket Flare set      £5.20
CSA Smoke Apparatus & Smoke Float set   £6.00
20mm Oerlikon AA Gun set (pr)    £11.20
Oval Carly Float set (pr)     £9.30
Splinter Padding set
Now let's look at each set in turn and show you some more detail.
20mm Oerlikon AA Gun set (pr)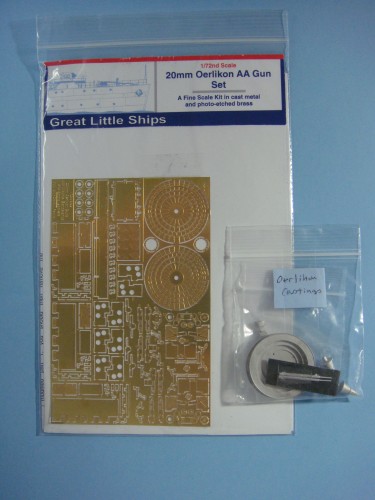 The set contains one large fret of brass etch and a separately packaged set of white metal bandstand bases, mounts, ammo drums & barrels. There are sufficient parts to build two single mounted Oerlikon guns, and a selection of ready use ammunition lockers.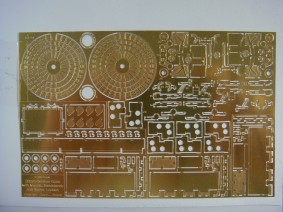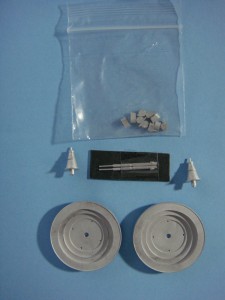 The brass is well detailed with quite sturdy gates, which will need careful removal. The white metal castings are free of any flaws, minimal flash and have some nice engraved and raised detail.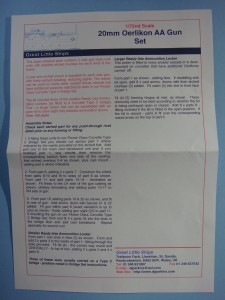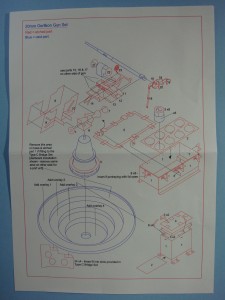 The instruction narrative is clear and concise, detailing exactly what steps to take to assemble and in which order. There is no painting guide, so reference photos will be a must.
The exploded view diagrams are self explanatory when used in conjunction with the narrative.
I used this set before on a 1/72 Revell Flower Class Corvette, so just to demonstrate what they can be turned into, below are some shots of the finished article.
Excuse the poor photography with my 'point & squirt' camera and for those sharp eyed among you, CORRECT, this has not been weathered yet and it's been on the shelf a while, hence the 'dusty' appearance.