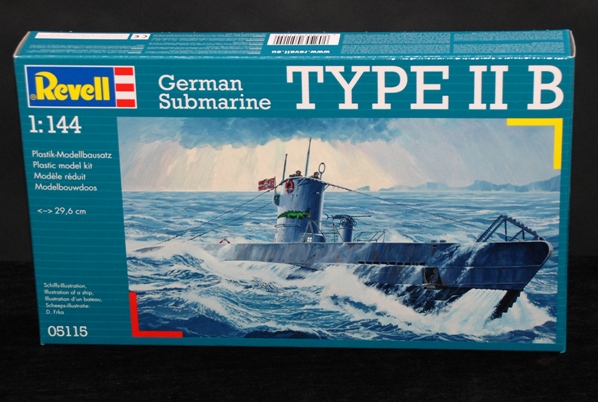 Kit reference: 05115
Price: around £8.99 GBP
Review by Geoff Coughlin (Nov 2012)
Our thanks to Revell for supplying our review sample. Revell model kits are available from all good toy and model retailers. For further information visit http://www.revell.eu/ or email ukbranch@revell.de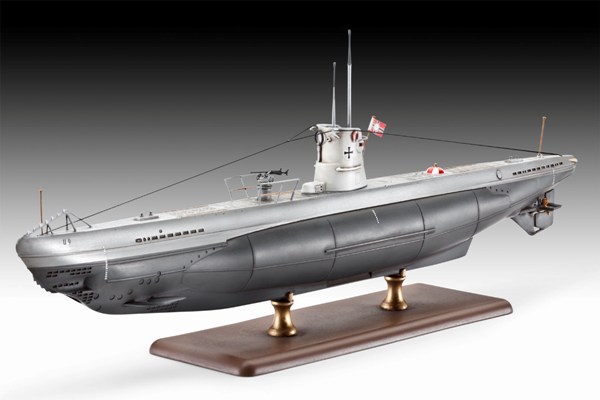 A little bit of background…
The German Type II submarines were the first new designs completed for coastal service in the North Sea and the Baltic after the end of the First World War. The Type IIs had powerful engines, were very manoeuvrable and could dive within 25 seconds. After only four months in production a submarine was launched. By the end of 1936 the German submarine forces had over 24 available. Referred to as the "canoe" due to the proverbial cramped conditions on board, some of the total of 50 submarines made were still in service in the Black Sea at the beginning of 1944. The German Navy training flotillas used this type until the war ended in 1945.
The Revell kit…
Here are some features of the kit:
Two conning tower variants
Net cutter
Hull with welds
Imitation vents
Deck details
Detailed screws and rudder
Periscope
Detailed 20 mm anti-aircraft gun
Display stand
Decals for the following versions:

U-Boot Typ IIB, U9, 1. U-Flottille, Kiel, 1939
U-Boot Typ IIB, U20, 1. U-Flottille, Kiel, 1940
U-Boot Typ IIB, U23, 1. U-Flottille, Kiel, 1939

Suggested Revell      Colors: 5, 8, 48, 56, 57, 69, 77, 89, 90, 92, 374, 382
Graham Thompson reviewed the Type VIIC U-Boat by Revell back in March this year and he was suitably impressed. Certainly some of what he said then applies to this review and is included here where appropriate.
Initial assessment…
The usual Revell style end opening box contains a total of two sprues and two hull halves in grey plastic, an instruction booklet and a small decal sheet.
Accuracy…                                         
I cannot comment on the accuracy other than to compare it to pictures and to read other reviews, especially those on respected maritime modelling sites.  I have read no negative comments to date and it certainly looks the part which is important.
Quality…
The parts on the sprues are very sharply moulded with good surface detail in both recessed and raised lines and are virtually flash free.  There are a large set of railings that go around the gun platform and other parts of the conning tower (actually called a 'sail on modern subs but I am not sure if that applies to WWII boats).  These railings do look a bit over scale and have quite a few mould plugs on them.  These will take quite some cleaning up to not break the railings.  Even at this scale, there are quite a few very fine parts and again, care will be needed cutting them off the spurs and cleaning them up.
.
Instructions…
The instruction sheet comes as a 20-Stage folded A4 booklet style printed in black and white.  A short description of the boat is on the front cover and there are a couple of pages of general modelling advice as per Revell's normal custom.  A key for the colours used for painting the model referring to Revell's own paints is included on half a page and there is half a page of sprue diagrams.  Add to this two pages detailing the colour schemes and decal options for four boats.  This leaves six pages of exploded view building instructions over 20 nicely detailed stages.
Decals…
The decal sheet is fairly basic with most decals for the stand to label the particular boat you have modelled.  There are small symbols for each of the boat options and the usual Kriegsmarine red flag but as with Revell's policy no swastikas are represented and will need to be added or replaced should you wish this to be historically accurate.
Conclusions…                                    
This is a very nice looking kit out of the box.  Other than the slightly over scale railings, I can see no issues at this stage.  The detail looks good and the parts are virtually flash free.  At around 29.6cm (nearly 12-inches) long, this will assemble into an imposing little model for around £9 straight from the box.
Geoff C.
Recommended