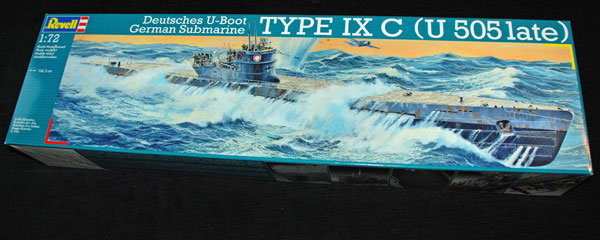 Price around £55.99 GBP (Dec 2013)
Materials: Injection moulded plastic and fine black thread
Kit reference: 05114
Review by Geoff Coughlin
Introduction
You may well have seen other reviews we have in your SMN of these large scale 1:72 kits of German U-Boats. They are all versions of the VIIC and now we have a later example of the Type IXC representing U-505 in 'Late' configuration. If you check out the Revell link in the right panel in this Maritime Here Now area you'll find the other reviews we have done.
Here's a little bit about the type
A total of 194 Type IX U-Boats designed for oceanic deployment entered service with the German Navy. Type IX-C U-Boats could operate at depths of up to 250 meters (750 ft) and were designed for an operational range of 13,450 nautical miles. The crew consisted of four officers and 44 men. The keel of U 505 was laid at the "Deutsche Werft" in Hamburg on 12 June 1940. It entered service on 26 August 1941 under the command of Lieutenant Loewe.
By the end of 1942 as lead U-Boat of the 2nd U-Boat Flotilla out of Lorient, it was successful in achieving eight "sinkings" from West Africa to the Caribbean. In the spring of 1943 within the scope of a modification program, U- 505 received a new Mk III Conning Tower with a larger "Winter-Garden". The upper deck was fitted out with two 2-cm twin Flak Cannon. The 3.7-cm Flak from the after-deck was installed on the lower platform. The 10.5-cm Naval Gun was removed. Increased Allied airborne surveillance and the use of anti-submarine groups with escort carriers however led to the capture of U-505 by the U.S. Navy on 4 June 1944 off the West coast of Africa. Since 2005 it has been exhibited at the Museum of Science and Industry in Chicago and is the only fully restored Type IX-C U-boat.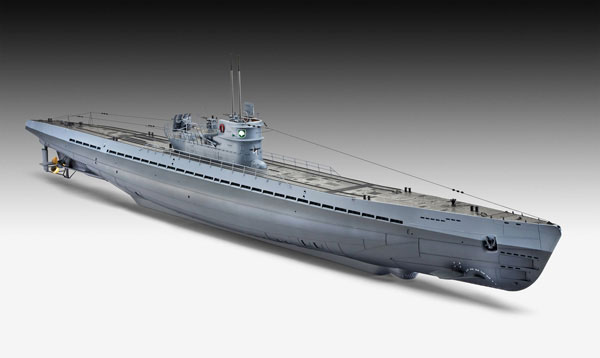 So what's in the kit?
Here's a quick run down:
New Mouldings
Later version with Mk III Conning Tower (Larger Winter-Garden)
Detailed hull with rivet and weld line structure
Imitation flood vents and doors
Decent deck detail
Both bow and stern torpedo doors in the open or closed positions
Moveable ruder assembly in the stern
Detailed propellers
Moving hydroplanes
Retractable periscope and antennae
Detailed conning tower platforms
Detailed upper conning tower side-walls with aerials, compass and hatch
Separate splash-guard on upper conning tower rim
U-Boat net deflection antennae and isolators
Cord for the antennae
Detailed 2 cm Flak twin cannon & 3,7 cm Flak gun
Display stands
Decals and Flags for following two Versions:
A – Submarine Type IX C, U 505, captured by the US Navy, Atlantic Ocean, June, 4th – June, 20th, 1944
B – Submarine Type IX C, U 505, 2th U-Flotilla, Atlantic Ocean, March, 16th – June, 4th, 1944
There's no doubt that these models make up into impressive subjects when done well and because of their size you have a great canvas on which to apply your chosen weathering and finish. Unlike some of the other releases this one has no crew figures so if you want to add them you'll have to source them from elsewhere.
Generally the parts are well formed but some flash is present on many parts but, again, this will not be difficult to remove.
SMN Quick summary Star rating out of 5
| FEATURE | STAR RATING (out of five) |
| --- | --- |
| Quality of moulding | **** |
| Accuracy | *** |
| Instructions | *** |
| Decals | **** |
| Subject choice | **** |
| Overall | **** |