Price around £89.99 GBP (November 2014)
Materials: Injection moulded plastic, brass, Photo-Etch, wooden deck
Kit reference: 05129
Review by Geoff Coughlin (photos and videos)
Our thanks to Revell for supplying our review sample. Revell model kits are available from all good toy and model stores. For details visit www.revell.de/en
Here's a little bit about the type
USS New Jersey (BB-62 "Big J" or "Black Dragon") is an Iowa-class battleship, and was the second ship of the United States Navy to be named in honour of the US state of New Jersey. New Jersey earned more battle stars for combat actions than the other three completed Iowa-class battleships, and was the only US battleship providing gunfire support during the Vietnam War.
During World War II, New Jersey shelled targets on Guam and Okinawa, and screened aircraft carriers conducting raids in the Marshall Islands. During the Korean War, she was involved in raids up and down the North Korean coast, after which she was decommissioned into the United States Navy reserve fleets, better known as the "mothball fleet". She was briefly reactivated in 1968 and sent to Vietnam to support US troops before returning to the mothball fleet in 1969. Reactivated once more in the 1980s as part of the 600-ship Navy program, New Jersey was modernized to carry missiles and re-commissioned for service. In 1983, she participated in US operations during the Lebanese Civil War.
New Jersey was decommissioned for the last time in 1991 (after serving a total of 21 years in the active fleet), having earned a Navy Unit Commendation for service in Vietnam and 19 battle and campaign stars for combat operations during World War II, the Korean War, the Vietnam War, the Lebanese Civil War, and service in the Persian Gulf. After a brief retention in the mothball fleet, she was donated to the Home Port Alliance in Camden, New Jersey, and began her career as a museum ship 15 October 2001.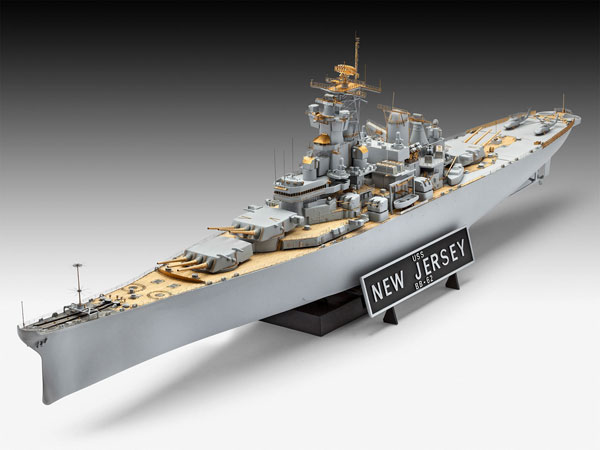 ZOOM - Move your mouse over image
You'll also see that this review contains a 4-Part video sequence showing you the various areas of the model in close-up.
So what's in the kit?
I'm pleased to be able to bring you this review of the Revell USS New Jersey BB-62, an Iowa-Class Battleship.
The photos in the grid above give you some photos of the assembled manufacturer's model and you can see just what an impressive package this kit is. Certainly a 'Premium' boxing if ever there was one, yet, the overall price still looks incredibly reasonable when you see what you get: full photo-etch, turned brass gun barrels, wooden deck – the list goes on…
Geoff C
SMN Quick summary Star rating out of 5
| FEATURE | STAR RATING (out of five) |
| --- | --- |
| Quality of moulding | **** |
| Accuracy | **** |
| Level of detail | ***** |
| Instructions | *** |
| Decals | **** |
| Subject choice | ***** |
| Overall | **** |