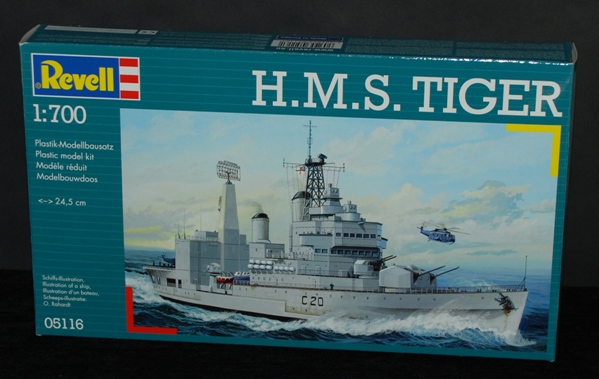 Review by Geoff Coughlin
Kit reference: 05116
Price around: £9.00 GBP (Oct 2012)
Our thanks to Revell for supplying our review sample. Revell model kits are available from all good toy and model retailers. For further information visit www.revell.eu or email ukbranch@revell.de
A little bit of background…
The H.M.S. Tiger was in service with the Royal Navy as a helicopter cruiser until 1978. The origin of this ship dates back to the Second World War. She was laid down in 1941 as a light cruiser of the Minotaur Class. Construction was halted during the war and she was not launched until 1945. After the war ended the design was thoroughly reviewed so that she did not go into service until 1959. Due to the increasing submarine threat during the cold war, H.M.S. Tiger was converted to a helicopter cruiser in 1968-72. A helicopter deck with hangar replaced the after cannon. This enabled 4 helicopters to be stationed on the ship.
Initial assessment…
this isn't a new-tool model, in fact it looks very like (and probably is) the old Matchbox model of yesteryear. The model comes in a waterline configuration lacking of course the lower hull.
.
Accuracy and quality…
Given then that this is a very old tooling the detail that's provided is showing its age with some flash and the detail being soft in places like he anchor chains and cranes. To be honest, the pictures included with this piece show you all that you need to know and I guess it's largely about paying your money and taking your choice.
At around £9.00 GPB this seems quite a lot for what's in the box although you do get a Seaking helicopter for the rear flight deck and that does look like a Seaking. The rotor blades are a bit heavy as you might expect and just about everything would need to be replaced using photo-etch to bring the detail up to the levels often expected and wanted by experienced maritime modellers.
You may be building a collection in 1:700 and are more concerned with getting the type onto the shelf, in which case the detail supplied may be acceptable.
One of the advantages of vessels like HMS Tiger is that their basic design is quite 'flat', lacking all the myriad of design features typical of older ships and this will make for a straightforward build from the box.
Instructions…
The instructions are the usual A4 folded booklet style that Revel favour and I have no trouble with. They cover the construction of the kit in 24 stages including those covering painting, as usual showing the codes for Revell's own colour paints. The exploded diagrams are clear and concise and should be easy enough to follow.
Decals…
The decals look good quality and as there are very few marking on the real ship, sufficient are supplied. Conclusions…
As is inevitable with a kit of this scale and price, some of the finer detail on such as walkways and radar/mast detail will either be over scale or left off. To beef it up, a set of Photo Etch detail enhancement from the likes of White Ensign Models (Gold Medal) will help improve the overall look of your model Although many prefer waterline models, I was surprised to see that this kit is waterline only. You can display waterline on a nice piece of polished wood or even slate and it will look good but I like to see ships in the 'water', again, don't be put off if you feel that making a sea base is a step too far.
Geoff C.