Review by: Geoff Coughlin (Jan 2012)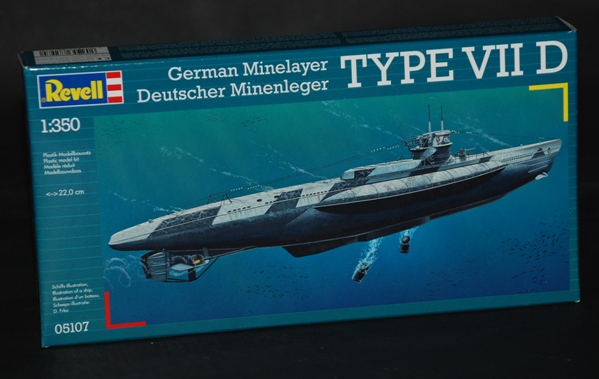 Our thanks to Revell for supplying our review sample.
A bit of reference…
Background
It is hard to overestimate the role of minelayers in naval combat. The German Navy used these elongated U-boats to place mines near enemy shipping routes.
The Type VIID featured five mine silos, located just behind the conning tower. Each silo could store up to three mines each, making the Type VIID a formidable foe for the Allies.
Kit features an extended hull with fine riveting and welds, authentically reproduced deck details, a detailed engine, a realistic periscope, a true-to-the-original weapons assortment and decal markings for U-212, U-217 and U-218.
The Kit
Click on the thumbnails to enlarge images.
This is not a completely new kit, but one that dates from 2009; nonetheless, it's a fair size at 22cm long and will compliment your other 1:350 models very well.
This is a very straightforward model to build and I think that it offers a lot in how you choose to weather and finish your model. Done well, it could look stunning!
I have just uploaded a great video from Graham Thompson into your Techniques Bank where he shows you exactly how you can replace delicate plastic masts with brass metal replacements – much, much more straightforward than you may at first think, so do check that out.
The reason for mentioning it here is that there are rigging possibilities with this kit and some of the parts look delicate, so this would provide a great canvas from which you can move on.
The deck is nicely moulded with decent recessed detail that will good to weather. Some of the other parts like the conning tower and deck gun have excess flash that will need to be removed, but hey, that's modelling.
The inclusion of a stand is a nice touch as your completed model will look great mounted on it.
Instructions
These comprise of a fold-out sheet with exploded diagrams showing where all the parts go – clear enough. The model should present few, if any problems to modellers with just a little experience.
Decals
Revell include a decal sheet with appropriate markings for the U-Boats featured and some of the schemes will prove challenging, yet excellent if you pull them off.
Colour is solid and strong with no items out of register, just remember to apply them onto a high gloss finish and then matt down as appropriate to reduce any chance of decal silvering.
One problem is, of course, that the German flags do not have their swastika printed so you'll have to source these from elsewhere (like White Ensign Models).
In Conclusion…
An impressive package when you take into account the price and size of model.
Plenty of people buy and make models in this scale and you will have another U-Boat to add to your collection and a sight easier to store and display than Les's Trumpeter 1:200 scale USS Arizona!
You might even try the Revell Type VIIc in the larger 1:72 scale – who knows, you may even get converted and motivated to do more maritime modelling as some of the SMN Review Team have been!
| FEATURE | STAR RATING (out of five) |
| --- | --- |
| Quality of moulding | *** |
| Accuracy | *** |
| Instructions | *** |
| Decals | *** |
| Subject choice | **** |
| Overall | *** |
Geoff C.